Martin, Tutner power to Cameron Engines Night wins at U.S. 36 Raceway
August 25, 2017

by Rick Staley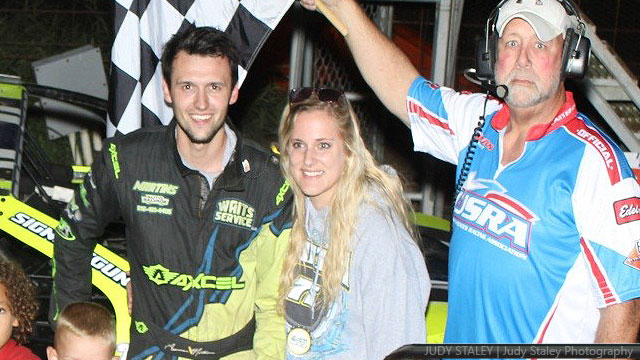 Gunner Martin won the USRA Modified feature.
Out-Pace USRA B-Mods would not disappoint as Shadren Turner would win both heat and feature on this night of racing action. Turner and Josh Munsen would battle side by side in the early going until Tim Eaton would work his way to the front challenging Turner. Turner would use the high line to perfection and stand tall in Lake Road Warehouse Winners Circle with Eaton second. Munsen would end the race third with Steven Clancy, who was in the hunt all feature fourth. Chris Wright #66X would move from the back of the field to the front to place fifth on the night. Other heat winner was Dakota Kessler.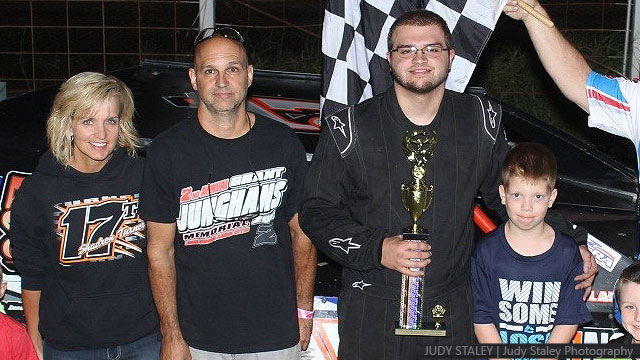 Shadren Turner won the Out-Pace USRA B-Mod feature.
USRA Modifieds would witness a scary roll on the front straight as contact would send Zach Sanders flipping. Sanders would emerge unhurt but with a mangled race car. As the green would be shown, heat winner Gunner Martin would again take the lead and never relinquish holding off the hard challenge of second place finisher Chad Clancy to claim the win. Martin and Clancy would race side by side with Martin high and Clancy low lap after lap and never touching thrilling the fans. Third would see Dennis Elliott make his way through traffic with Clay Hale continuing to impress with a solid fourth place showing. Other heat winner Mark Dotson would recover from an early race mishap to place fifth.
The U.S.36 Raceway would like to congratulate Cheyanne Miller and Kasyn Clinton on winning the bikes donated by Boller Motorsports. We would also like to thank drivers and fans on another great night of racing action. Reminding all next Friday night is the Wayne Hicks Memorial Race so make those plans now to attend.
= = = = = = = = = = = = = = =
OFFICIAL RESULTS
United States Racing Association
Summit Racing USRA Weekly Racing Series
U.S. 36 Raceway, Osborn, Mo.
Friday, Aug. 25, 2017
OUT-PACE USRA B-MODS
Feature:
1. 17T Shadren Turner
2. 211 Tim Eaton
3. 19 Josh Munsen
4. 12C Steven Clancy
5. 66X Chris Wright
6. 20X Jim Cameron
7. 81K Dakota Kessler
8. 15B Wes Bestgen
9. 7M Heath Murry
10. 07 Daniel Harris
11. 05 Jeremy Lile
12. 47X Conner Masoner
13. 22B Mitch Booher
14. 222 Dustin Crist
USRA MODIFIEDS
Feature:
1. 75 Gunner Martin
2. 21C Chad Clancy
3. 29 Dennis Elliott
4. 22H Clay Hale
5. 85D Mark Dotson
6. 23 Logan Robertson
7. 78 Derrick Hicks
8. 2H John Hanson
9. 98 Austin Johnson
10. 97 Houston Johnson
11. 90 Terry Schultz
12. 96J Billie Hoover
13. 69 Zach Sanders