Lucas Oil Speedway Spotlight: Brill may start late, but looks to build on USRA Modified success
February 23, 2023

by Lyndal Scranton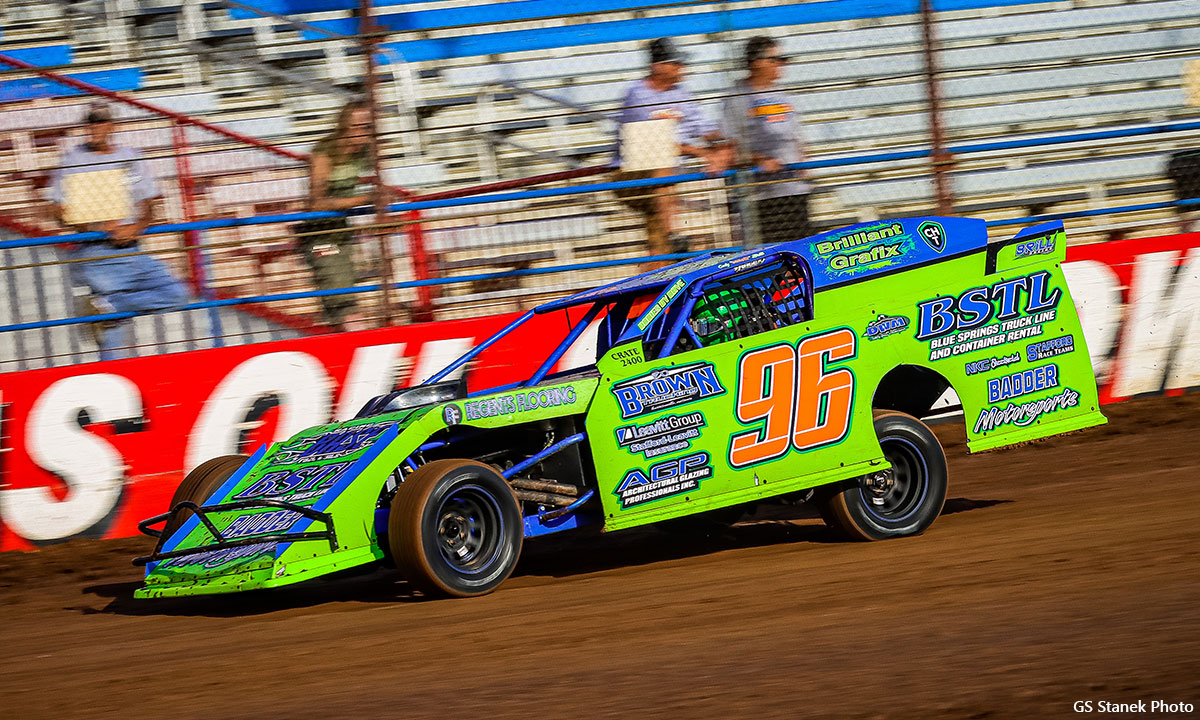 Cody Brill had a strong season in 2022, finishing fourth in Lucas Oil Speedway's Cedar Creek Beef Jerky USRA Modified points.
After spending more than a decade driving B-Mods, Cody Brill expanded into the USRA Modified division last season and made a quick impact.
But before following up on his solid fourth-place finish in Lucas Oil Speedway's Cedar Creek Beef Jerky USRA Modified points in 2022, Brill likely will get a late start behind the wheel.
Business for his Harrisonville-based Brilliant Grafix is booming. Brill said he has about 25 race cars to wrap along with other commercial business lined up. He's barely touched his race cars since the Summit USRA Nationals last October.
"I figure I won't do a ton of racing until the middle of May," Brill said. "I haven't had much of a break to work on the cars this winter. I've needed to make sure my customers are happy."
Once he does get going, Brill will have to figure out if he wants to focus on the USRA B-Mod that he owns, the Modified he drives for his father-in-law or both.
An early season crash that tore up the USRA B-Mod last spring led to him spending most of 2022 in the other car. He responded with three top-five finishes and 11 top-10s in 14 Lucas Oil Speedway USRA Modified events. Brill wound up behind champion Dillon McCowan, runner-up Dustin Hodges and third-place Jason Pursley in the points. Pretty good company for someone without USRA Modified experience.
"I didn't have any expectations going into last year with the A-Mod, being I only ran nationals the year before with it," Brill said. "We were running a crate motor, so we were a little under-powered to start the year. But, we switched with two points races left and it kind of set things back a little bit.
"Getting a bigger motor, you have to change some things and I wasn't used to all that power."
Overall, he said he probably overachieved, considering it was his first season in the class. Of course, like most race drivers, he always wanted better results.
"I got a little disappointed when I finished third and fourth for a couple of weeks," he said. "After that I couldn't find closer than sixth or seventh the rest of the year. I kind of wanted third and fourth after that."
Brill said he hopes to continue improving in the USRA Modified this season, but he has to figure out his schedule.
"My father-in-law is the car owner and he's saying this is his last year," Brill said. "I may have to take a little step back this season in the A-Mod."
Brill, 29, got his start in racing about 18 years ago in a go-kart that his dad bought off eBay. A few years later, he said he was grounded by his parents from racing one weekend, but he and his dad went looking at a USRA B-mod that was for sale and purchased it.
"I've been in B-Mod primarily from then up until last year," he said.
As for goals in 2023, considering the delayed start, Brill said he would like to get a Modified feature win and "get a win at Lucas, whether it's in the A-Mod or B-Mod. I'd probably have a better chance in the A-Mod. It's stiff competition with the B-Mods."
Asked if he's going to miss racing when the season begins in late March, Brill said "100 percent."
"As soon as everybody else starts to have fun, I'm gonna get to work on my cars and get 'em ready," he said. "I don't mind the offseason to take a little break, but when everybody else gets back out there and starts to have fun, I don't want them to have fun without me."
Brill's crew includes his dad, Todd Brill, along with engine builder Todd Rew plus Bobby Firestone, Eli Vogt and Mateo Medrano.
Along with his own Brilliant Grafix business, he's sponsored by Badder Motorsports, W. Brown Trucking, Base Race Fuel, Blue Springs Truck Line, Stafford-Leavitt Insurance, AGP, Regents Flooring, DWM, CHT, Stafford Race Reams, HBJ Chassis (USRA B-Mod) and Rage Chassis (USRA Modified).
Season openers nearing: Lucas Oil Speedway's schedule begins with an open Test and Tune set for March 18 from 2-6 p.m.. The Big Adventure Weekly Racing Series Weekly Opener kicks off the season on March 25. Classes in action include the Hermitage Lumber Late Models, Cedar Creek Beef Jerky USRA Modifieds, O'Reilly Auto Parts Medieval USRA Stock Cars and Ozark Golf Cars USRA B-Mods. The Hermitage Lumber Late Models will be running a special 25-lap $1,000-to-win featured event.
Show-Me 100 3-day passes on sale: Reserved seats for Lucas Oil Speedway's signature event, the 31st annual Show-Me 100 are now on sale to the general public. The three-day, reserved seats had previously been available only for renewals.
The Show-Me 100, featuring the stars of the Lucas Oil Late Model Dirt Series and Lucas Oil MLRA, is set for May 25-27. The three-day passes are $115 and can be purchased through the Lucas Oil Speedway office by calling Admissions Director Nichole McMillan at (417) 282-5984 or email her at nichole@lucasoilspeedway.com for more information.
Each pass is for one reserved stadium-style seat, complete with high backs and armrests located in the top six rows of the main grandstand.
Continuing to crush it: Year after year, the USRA continues to attract more racetracks and dirt track racers through fair, logical and cost-effective rules accompanied by an organization that puts the racers, racetracks and their fans first. In the 2022 Summit USRA Weekly Racing Series, more than 50 of America's finest dirt ovals host over 1,000 nights of racing.
USRA competitors can register online at MyRacePass today. Alternatively, you can call (515) 832-6000 to register by phone, or submit a completed USRA License Application by email at office@usraracing.com or fax (515) 832-7958. You can download the application at usraracing.com/downloads.
To learn more, check out usraracing.com for schedules, points, photos, souvenirs, videos and more. Follow our social media channels on Facebook, Instagram, Twitter and YouTube. Click here to get USRA news delivered to your inbox.
USRA OFFICIAL SPONSORS: American Racer Racing Tires, Beyea Headers, Chevrolet Performance, Christie Door Company, Fast Shafts, FK Rod Ends, KS Engineering, KSE Racing Products, Mesilla Valley Transportation, Nitroquest Media, PEM Racing Gears & Drivetrain, RacinDirt, Summit Racing Equipment, Sunoco Race Fuels.
USRA PARTICIPATING SPONSORS: Allen Autosports Race Cars, ARMI Contractors, Boubin Tire & Automotive, Brodix Cylinder Heads, DAY Motorsports, Duvall Electric, Gunshepherd.com, Innovative AutoGlass & Window Tint, PBM Performance Products, Star 1 Roofing & Construction, Stealth Thru Tubing, Texas Locomotive Solutions, TNT Auto Parts, YouDirt.com.
USRA CONTINGENCY SPONSORS: AFCO Racing Products, Allstar Performance, Bryke Racing, BSB Manufacturing, Champ Pans, Edelbrock, Hooker Harness, Hyperco, Integra Racing Shocks & Springs, JE Pistons, K1 RaceGear by Ryan Bowers, Keyser Manufacturing, Landrum Performance Springs, MD3, Medieval Chassis, MSD, Performance Bodies & Parts, QA1, Quarter Master, QuickCar Racing Products, RacerWebsite.com, Real Racing Wheels, Swift Springs, Sybesma Graphics, Wehrs Machine & Racing Products, Wilwood Disc Brakes.
USRA RACETRACKS: 81 Speedway, Alien Motor Speedway, Ark-La-Tex Speedway, Arrowhead Speedway, Boothill Speedway, Caney Valley Speedway, Cedar Lake Speedway, Chateau Speedway, Crawford County Speedway, Cresco Speedway, Dallas County Speedway, Deer Creek Speedway, Devil's Bowl Speedway, Diamond Park Speedway, Eagle Valley Speedway, Elk City Motorsports Park, Fairmont Raceway, Fayette County Speedway, Hamilton County Speedway, Humboldt Speedway, I-35 Speedway, I-90 Speedway, Lakeside Speedway, Lawton Speedway, Longdale Speedway, Lucas Oil Speedway, Mason City Motor Speedway, Mississippi Thunder Speedway, Moberly Motorsports Park, Monett Raceway, Rapid Speedway, Red Cedar Speedway, Red Dirt Raceway, Rocket Raceway Park, Route 66 Motor Speedway, RPM Speedway, Sabine Speedway, Salina Highbanks Speedway, Sandia Speedway, Sports Park Raceway, Springfield Raceway, Super Bee Speedway, Texarkana 67 Speedway, Thunder Valley Speedway, Tomahawk Speedway, Tri-State Speedway, Tulsa Speedway, US 36 Raceway, Vado Speedway Park, West Texas Raceway, Winneshiek Raceway.