Lucas Oil Speedway Spotlight: After narrow miss, Rob White sets sights on track championship
January 26, 2023

by Lyndal Scranton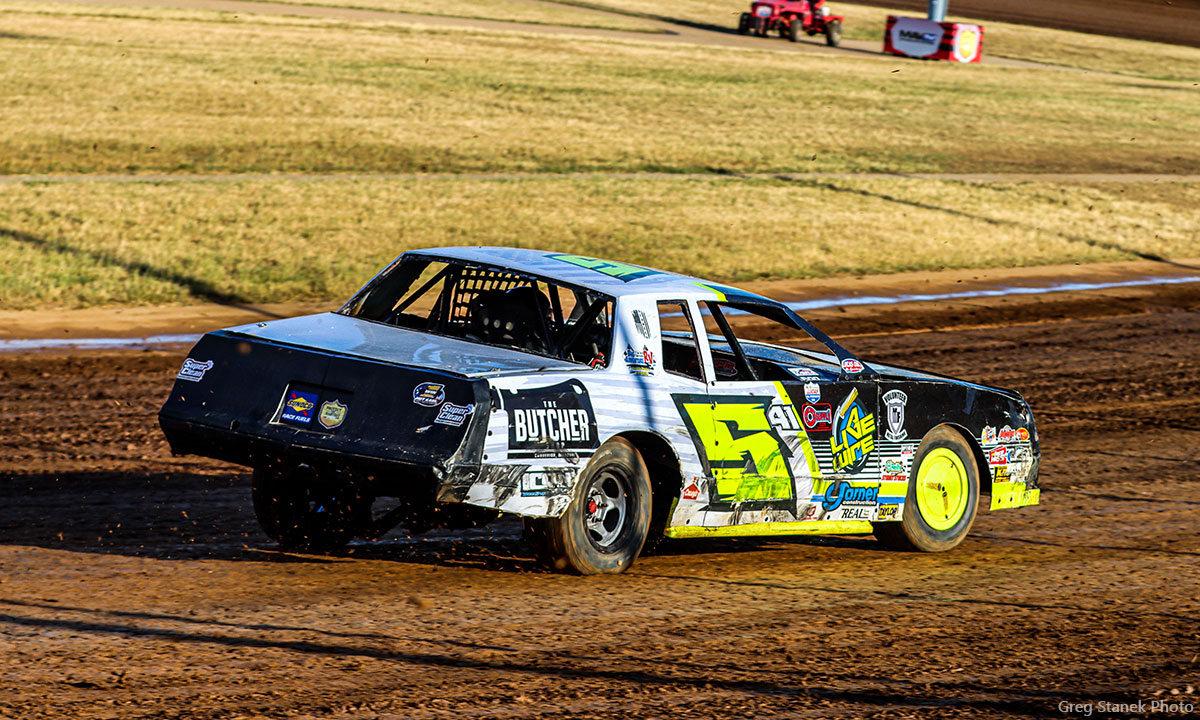 The cliché answers for most drivers when asked about upcoming season goals are to "just go out and try to win races and let the points take care of themselves" or something to that effect.
Rob White is an exception. The veteran driver from Lebanon is specific about his mission in the O'Reilly Auto Parts USRA Stock Car division at Lucas Oil Speedway.
"I want to win the Lucas championship and that's what I'm gonna focus on this year," White said.
Why is that so important?
"It's the Diamond of Dirt Tracks," White said. "I really want to win the championship there."
White is hopeful the old adage "the third time is the charm" applies. He's finished runner-up in the chase for the track championship each of the last two seasons, including a narrow eight-point deficit in 2022.
At least it stayed in the family, however, as his son Bryan White won the title last season.
Bragging rights also went to the younger White. As they did at Dallas County Speedway where Rob White finished four points behind William Garner in the points battle. He referred to Garner as "like another son" who has gone to the races with the Whites since he was a youngster.
Rob White said he joked with both Bryan and William before the final points races of last season about a possible "arrangement."
"I told 'em if they'd let me win those points championships that I'd go retire and they could go have fun. They wouldn't do it," Rob White said with a laugh.
So his quest in the highly competitive and rapidly growing division will resume in mid-March when the Big Adventure RV Weekly Racing Series kicks off at Lucas Oil Speedway.
Rob White, who's raced on and off for three decades in various dirt-track divisions, said the USRA Stock Car class is the most fun he's ever had.
"It's real competitive. Everybody gives everybody room and respect," he said. "That means a lot. It's hard to get away from anybody at all. It makes it exciting."
It also makes it a bit stressful when racing against his son. The final night of last season was a prime example as Rob needed to finish three spots in front of Bryan to overtake him for the points title. While Rob finished a strong second, Bryan came home in third.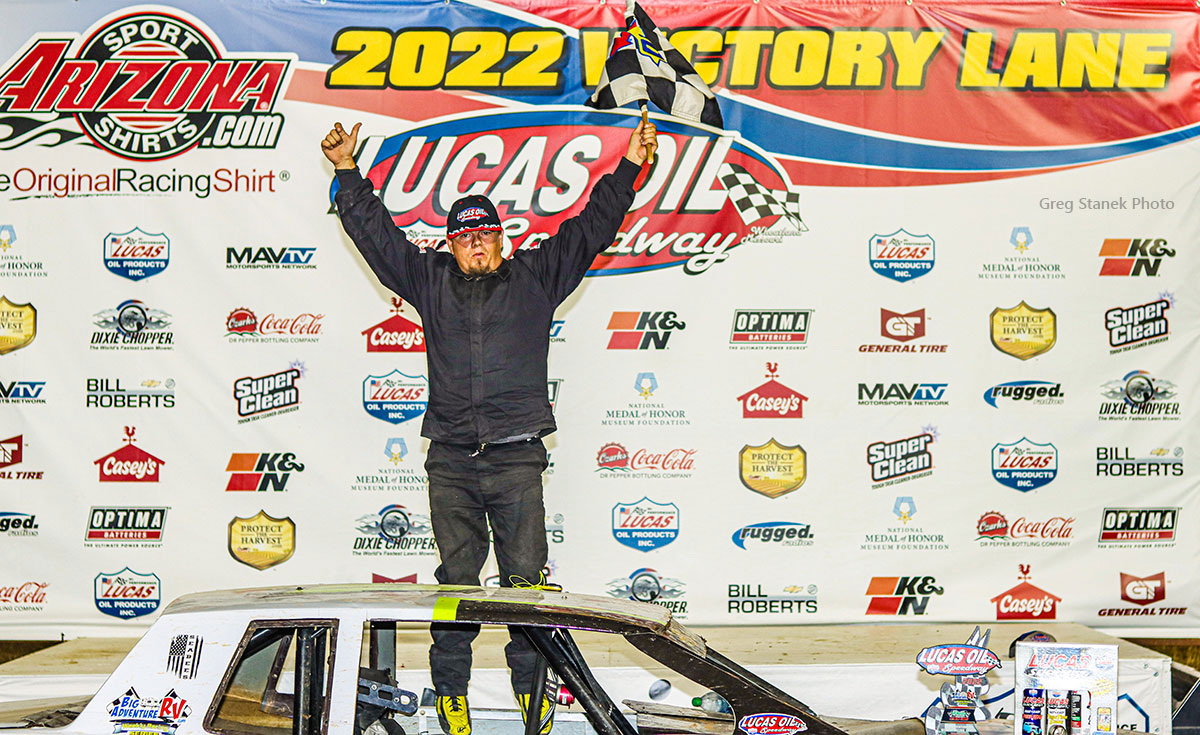 Rob White found victory lane twice in 2022 at Lucas Oil Speedway and finished just eight points behind son Bryan White in the O'Reilly Auto Parts USRA Stock Cars championship chase.
"I was keeping an eye on that scoreboard," Rob White said. "I seen when he got to third, that it was over then. Racing with him is stressful. You pay attention to where he's at and quit paying attention to what you're doing. Then the competitive side kicks in and you start racing."
Rob said he's proud of Bryan, along with son Jakob White, who won two features in the Pure Stock division last season at Dallas County.
"I don't think you can get much more of a proud dad than I am," he said. "Both my boys, they've both had real good success."
As for how he hopes to wrest away the Lucas Oil Speedway championship this season, Rob White said it's all about consistency.
"The third time's the charm, I hope," he said. "It's just consistency. You've got to be good in your heat races so it gets you lined up good in your features."
Rob White said his sponsor list includes Norris Logging, Bowman Bail Bonds, Price Enterprise, The Butcher Shop of Camdenton, Garner and Smith Insurance, The Burger Basket and Mid-State Machine.
Season openers: Lucas Oil Speedway's schedule begins with an open Test 'n' Tune set for March 18 followed by the Big Adventure Weekly Racing Series Weekly Opener on March 25. Summit USRA Weekly Racing Series classes include Cedar Creek Beef Jerky USRA Modifieds, O'Reilly Auto Parts Medieval USRA Stock Cars and the Ozark Golf Cars USRA B-Mods plus Hermitage Lumber Late Models.
Major event ticket reminders: Fans are reminded that reserved three-day pass renewals for the 31st annual Show-Me 100 presented by Protecttheharvest.com, May 25-27, are now available. Three-day pass renewals for the event are $115 and can be purchased through the Lucas Oil Speedway office by calling Admissions Director Nichole McMillan at (417) 282-5984 or email her at nichole@lucasoilspeedway.com for more information.
The renewals are available through Jan. 31. After that, the three-day reserved seats will be available for anyone to purchase. Each pass is for one reserved stadium-style seat, complete with high backs and armrests located in the top six rows of the main grandstand.
Show-Me 100 general admission three-day tickets through Stubwire are $100 for adults, $91 seniors/military and $30 for youth. Those can be found at stubwire.com/showme100.
Season passes available: Season ticket holders also can insure they have a seat for eery night by purchasing a season pass. Adults (ages 16-61) are $650 (dirt-track only) or $750 for all speedway events. Seniors (ages 62+) are $550 (dirt track only) or $650 for all speedway events.
Contact Nichole McMillan at (417) 282-5984 or email her at nichole@lucasoilspeedway.com for more information
Continuing to crush it: Year after year, the USRA continues to attract more racetracks and dirt track racers through fair, logical and cost-effective rules accompanied by an organization that puts the racers, racetracks and their fans first. In the 2022 Summit USRA Weekly Racing Series, more than 50 of America's finest dirt ovals host over 1,000 nights of racing.
USRA competitors can register online at MyRacePass today. Alternatively, you can call (515) 832-6000 to register by phone, or submit a completed USRA License Application by email at office@usraracing.com or fax (515) 832-7958. You can download the application at usraracing.com/downloads.
To learn more, check out usraracing.com for schedules, points, photos, souvenirs, videos and more. Follow our social media channels on Facebook, Instagram, Twitter and YouTube. Click here to get USRA news delivered to your inbox.
USRA OFFICIAL SPONSORS: American Racer Racing Tires, Beyea Headers, Chevrolet Performance, Christie Door Company, Fast Shafts, FK Rod Ends, K1 RaceGear by Ryan Bowers, KS Engineering, KSE Racing Products, Mesilla Valley Transportation, MSD, Nitroquest Media, PEM Racing Gears & Drivetrain, RacinDirt, Summit Racing Equipment, Sunoco Race Fuels.
USRA PARTICIPATING SPONSORS: Allen Autosports Race Cars, ARMI Contractors, Boubin Tire & Automotive, Brodix Cylinder Heads, DAY Motorsports, Gunshepherd.com, Innovative AutoGlass & Window Tint, PBM Performance Products, Star 1 Roofing & Construction, Stealth Oilwell Services, Texas Locomotive Solutions, TNT Auto Parts, YouDirt.com.
USRA CONTINGENCY SPONSORS: AFCO Racing Products, Allstar Performance, Bryke Racing, BSB Manufacturing, Champ Pans, Edelbrock, Hooker Harness, Hyperco, Integra Racing Shocks & Springs, JE Pistons, Keyser Manufacturing, Landrum Performance Springs, Medieval Chassis, Performance Bodies & Parts, QA1, RacerWebsite.com, Real Racing Wheels, Swift Springs, Sybesma Graphics, Wehrs Machine & Racing Products, Wilwood Disc Brakes.
USRA RACETRACKS: 67 Speedway of Texarkana, 81 Speedway, Alien Motor Speedway, Ark-La-Tex Speedway, Arrowhead Speedway, Big O Speedway, Boothill Speedway, Caney Valley Speedway, Cedar Lake Speedway, Chateau Speedway, Crawford County Speedway, Cresco Speedway, Dallas County Speedway, Deer Creek Speedway, Diamond Park Speedway, Eagle Valley Speedway, Elk City Motorsports Park, Fairmont Raceway, Fayette County Speedway, Gondik Law Speedway, Hamilton County Speedway, Humboldt Speedway, I-35 Speedway, I-90 Speedway, Lakeside Speedway, Lawton Speedway, Longdale Speedway, Lucas Oil Speedway, Mason City Motor Speedway, Midway Speedway, Mississippi Thunder Speedway, Pike County Speedway, Rapid Speedway, Rocket Raceway Park, Sabine Speedway, Sports Park Raceway, Springfield Raceway, Super Bee Speedway, Superbowl Speedway, Thunder Valley Speedway, Tomahawk Speedway, Tri-State Speedway, Tulsa Speedway, Vado Speedway Park, West Texas Raceway, Winneshiek Raceway.