August 30, 2015
Champions named at Upper Iowa Speedway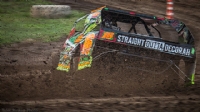 The Upper Iowa Speedway had to push back its season championship from Saturday to Sunday. The causes for the delay: wet track conditions and a power outage.
read more
August 30, 2015
The RacinBoys: Track Talk with Chase Austin
The RacinBoys spoke with Chase Austin after his USRA B-Mod win at the Lakeside Speedway in Kansas City, Kan., on Friday, Aug. 28, 2015. Austin is a former NASCAR Developm
watch video
August 30, 2015
Humboldt Speedway crowns 2015 champions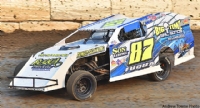 The 2015 racing season at Humboldt Speedway has entered history with the crowning of this season's points champions on Sunday.
read more
XXXXXXXXXXXXXXXXXXXXXXXXXXXXX
August 29, 2015
Kennedy notches third, Pechous adds name to USRA Hobby Stock winners at I-90 Speedway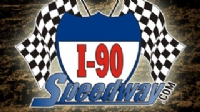 USRA B-Mod fans were delighted to see a late-season 24-car field Saturday night at the I-90 Speedway.
read more
August 29, 2015
Champions crowned as Waits wins two, Anderson wins first at Deer Creek Speedway
Deer Creek Speedway is celebrating their 20th season, and with tight battles and first-time winners the excitement was in the air all night.
read more
August 29, 2015
Cutshaw, Jackson score on Championship Night at Lucas Oil Speedway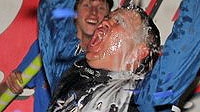 There was no shortage of fans as drivers strapped in Saturday and battled it out for their place in the final points standings at Lucas Oil Speedway on Bill Roberts Chevrolet-Buick Night.
read more
August 29, 2015
Jake Gallardo, Josselyn wind up in Southern New Mexico Speedway winners circle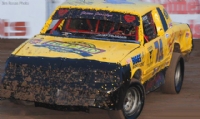 It was a massive car turnout Saturday night at the Southern New Mexico Speedway, nd if you missed it then you missed a full track in every class.
read more
August 29, 2015
Gould golden at East Texas Speedway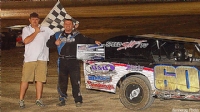 A strong field of cars were on hand Saturday night at the East Texas Speedway with William Gould taking the USRA Modified feature win.
read more
August 29, 2015
Karrick charges to Central Missouri Speedway victory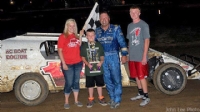 Near perfect weather combined with a multi-lane racing surface and a talented group of drivers made for a classic night of action on KRLI and KAOL Radio Night at the Central Missouri Speedway.
read more
August 29, 2015
Reed flies into I-35 Speedway winnerís circle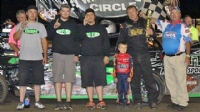 USRA B-Mods would take to the track at the I-35 Speedway and would not disappoint the full grandstand of fans. The race was fast and furious with several drivers taking their turn at the front of the field.
read more
August 28, 2015
USRA Modifieds | Randolph County Raceway
watch video
August 28, 2015
Fito grabs checkers and championship in USRA Modifieds, Froats gets first in USRA Stock Cars at El Paso Speedway Park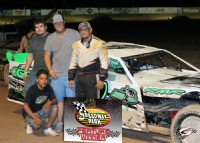 Friday night at the El Paso Speedway Park saw a heavy track after a ton of rain, and with only two races left here for the season this was your last chance to see USRA Modifieds.
read more
August 28, 2015
CARB Night wins at Lakeside Speedway to Fuqua, Heeter, Austin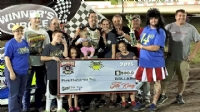 CARB Night at Lakeside Speedway was a good time for all in attendance on Friday night. The action on the track was well worth the price of admission on this special night.
read more
August 28, 2015
Thompson goes for third win in August Saturday at Legit Speedway Park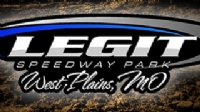 Saturday night racing at Legit Speedway Park will feature USRA B-Mods plus five other classes on the track. This week's racing event is sponsored by Donís Auto Service and West Plains Propane.
read more
August 27, 2015
KRLI & KAOL Radio Night at Central Missouri Speedway this Saturday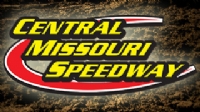 With just two race weekends and three nights of racing left, the season is quickly drawing to a close at the Central Missouri Speedway.
read more