Phillips puts Morton in Bloodline Race Cars B-Mod house car
September 14, 2023

by RacinDirt.com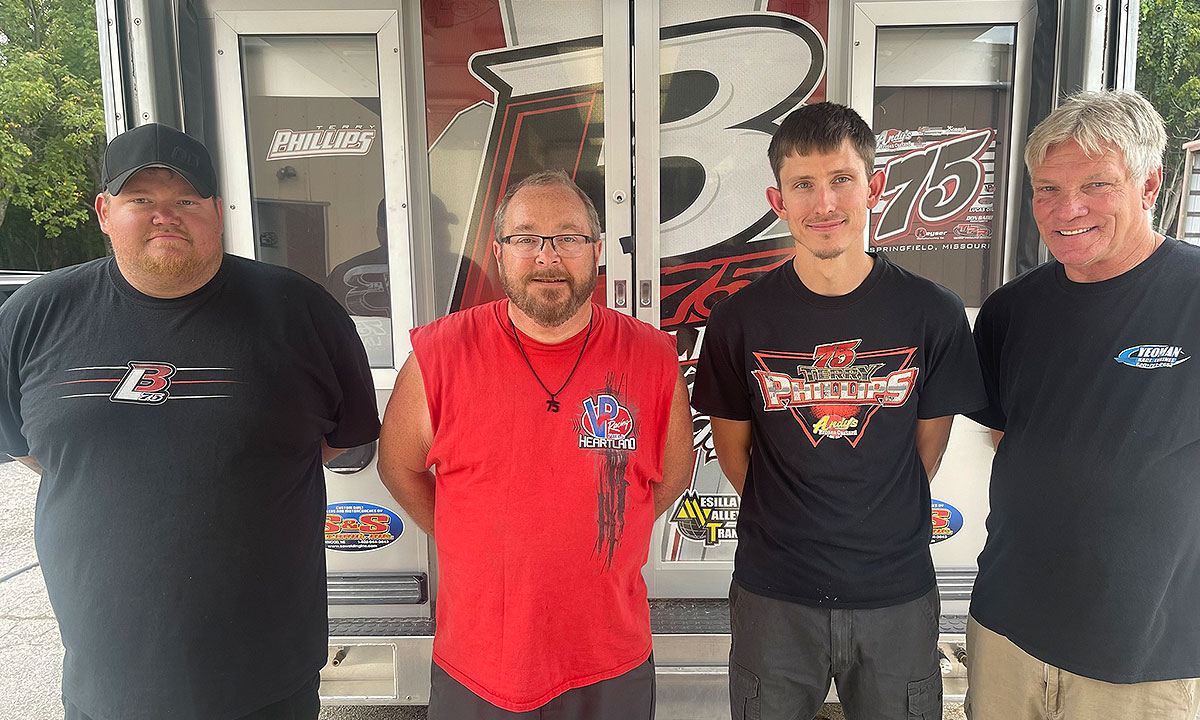 J.C. Morton (second from left) will pilot the B-Mod house car for Bloodline Race Cars owner Terry Phillips (red shirt).
Nearing the end of the inaugural season for Bloodline Race Cars, Terry Phillips is pleased to announce the start of his USRA B-Mod house car program with fellow Springfield, Mo., racer J.C. Morton filling the seat.
"I'm real excited about the B-Mod and the opportunity to work with J.C.," said Phillips. "J.C.'s dad and I go way back, I've always liked the kid and his style of racing. I'm proud to have him in my cars. I know when he pulls out on the track he's going to give 100 percent. I like that in a driver, and I feel like we can do some good things together.
"I wasn't planning this direction initially with our cars, but a lot of people have called for them."
The current plan is to debut the car his month.
"T.P. and I have been close for several years," said Morton. "Dad and he are good friends, and this deal just came up. This is a huge opportunity. I've looked up to him since I was a kid. To say we are racing with Terry Phillips Racing is phenomenal."
The plan is to make these B-Mods available in the near future. Terry Phillips Racing has rolled out a few Modifieds and will have a shorter lead time on those going forward too. Phillips has restructured the Bloodline program over the season, and will be better able to serve customers from his shop in Springfield.
"We just got the jig in our shop and Robert "Hollywood" Heydenrich will be welding frames for us as we take all the production in house," Phillips added. "We have had to add electric service and get parts stocked, but we're getting there. This will be a lot better for our customers as we head into the future."
Morton will stick with his Yeoman Race Engines program, which he has ran for several years. He will look to build on his previous success over the past 17 years, and test a lot of new ideas along the way too.
Morton has won humboldt Speedway's Battle at the Bullring twice and the Summit USRA Nationals two seasons ago. In 2016, he was the Summit USRA Weekly Racing Series USRA B-Mod National Champion, and this year he captured the USRA B-Mod track championship at the Arrowhead Speedway in Colcord, Okla.
Tony Rogers (Tommy Boy) will continue to oversee Phillips' Bloodline operation and also play a vital role in Morton's racing going forward. He in entering his second year with Phillips and is thrilled to add Morton to the stable.
"I wanted someone who raced hard all the time and was doing all they could do to race," said Rogers. "J.C. fits perfectly with us, and I'm so glad we are going to develop our B-Mod program with him behind the wheel. It should be great for him too! He's a family guy as well and that's real important."
Summit USRA Nationals nears: The 10th Annual Summit USRA Nationals powered by Chevrolet Performance returns to the "Diamond of Dirt Tracks" on October 2-7. This year's event will feature USRA Modifieds, Medieval USRA Stock Cars, USRA B-Mods, USRA Hobby Stocks and USRA Tuners.
Racers are encouraged to register online now at myracepass.com/usranationals or you can download the entry form here and then mail or fax your completed form. You can also call the USRA office at (515) 832-6000 to sign up.
Fans can purchase tickets online here.
USRA moving fast forward: For more than two decades, the USRA has attracted more and more racetracks and dirt track racers each year through fair, logical and cost-effective rules accompanied by an organization that puts the racers, racetracks and their fans first. During the 2023 Summit USRA Weekly Racing Series, more than 60 of America's finest dirt ovals will host more than 1,000 nights of racing.
USRA competitors can register online here or call (515) 832-6000 to register by phone. You can also download the application here and then submit your completed form by email at office@usraracing.com or fax at (515) 832-7958.
To learn more, check out usraracing.com. Follow our social media channels on Facebook, Instagram, Twitter and YouTube. Click here to join our email list and get USRA news and exclusive promotions delivered to your inbox.
USRA OFFICIAL SPONSORS: American Racer Racing Tires, Beyea Headers, Chevrolet Performance, Christie Door Company, Fast Shafts, FK Rod Ends, KS Engineering, KSE Racing Products, Mesilla Valley Transportation, Nitroquest Media, PEM Racing Gears & Drivetrain, RacinDirt, Summit Racing Equipment, Sunoco Race Fuels.
USRA PARTICIPATING SPONSORS: Allen Autosports Race Cars, ARMI Contractors, Boubin Tire & Automotive, Brodix Cylinder Heads, DAY Motorsports, Duvall Electric, Gunshepherd.com, Innovative AutoGlass & Window Tint, PBM Performance Products, Star 1 Roofing & Construction, Stealth Thru Tubing, Texas Locomotive Solutions, TNT Auto Parts, YouDirt.com.
USRA CONTINGENCY SPONSORS: AFCO Racing Products, Allstar Performance, Bryke Racing, BSB Manufacturing, Champ Pans, Edelbrock, Hooker Harness, Hyperco, Integra Racing Shocks & Springs, JE Pistons, K1 RaceGear by Ryan Bowers, Keyser Manufacturing, Landrum Performance Springs, MD3, Medieval Chassis, MSD, Performance Bodies & Parts, QA1, Quarter Master, QuickCar Racing Products, RacerWebsite.com, Real Racing Wheels, Swift Springs, Sybesma Graphics, Wehrs Machine & Racing Products, Wilwood Disc Brakes.
USRA RACETRACKS: 67 Speedway of Texarkana, 81 Speedway, Alien Motor Speedway, Ark-La-Tex Speedway, Arrowhead Speedway, Bolivar Speedway, Boothill Speedway, Callaway Raceway, Caney Valley Speedway, Cedar Lake Speedway, Crawford County Speedway, Cresco Speedway, Dallas County Speedway, Deer Creek Speedway, Diamond Park Speedway, Eagle Valley Speedway, Electric City Speedway, Elk City Motorsports Park, Fairmont Raceway, Fayette County Speedway, Gondik Law Speedway, Hamilton County Speedway, Humboldt Speedway, Hunt County Raceway, I-35 Speedway, I-90 Speedway, Lakeside Speedway, Lawton Speedway, Legacy Speedway, Longdale Speedway, Lucas Oil Speedway, Mason City Motor Speedway, Mississippi Thunder Speedway, Monett Raceway, Northwest Missouri State Fairgrounds, Outlaw Motor Speedway, Rapid Speedway, Red Cedar Speedway, Red Dirt Raceway, Rocket Raceway Park, Route 66 Motor Speedway, RPM Speedway, Sabine Speedway, Salina Highbanks Speedway, Sandia Speedway, Sports Park Raceway, Springfield Raceway, Super Bee Speedway, Thunder Valley Speedway, Tomahawk Speedway, Tri-State Speedway, Tulsa Speedway, US 36 Raceway, Vado Speedway Park, West Texas Raceway, Winneshiek Raceway.