Possible $10,000 awaits USRA B-Mod Shootout winner in Mason City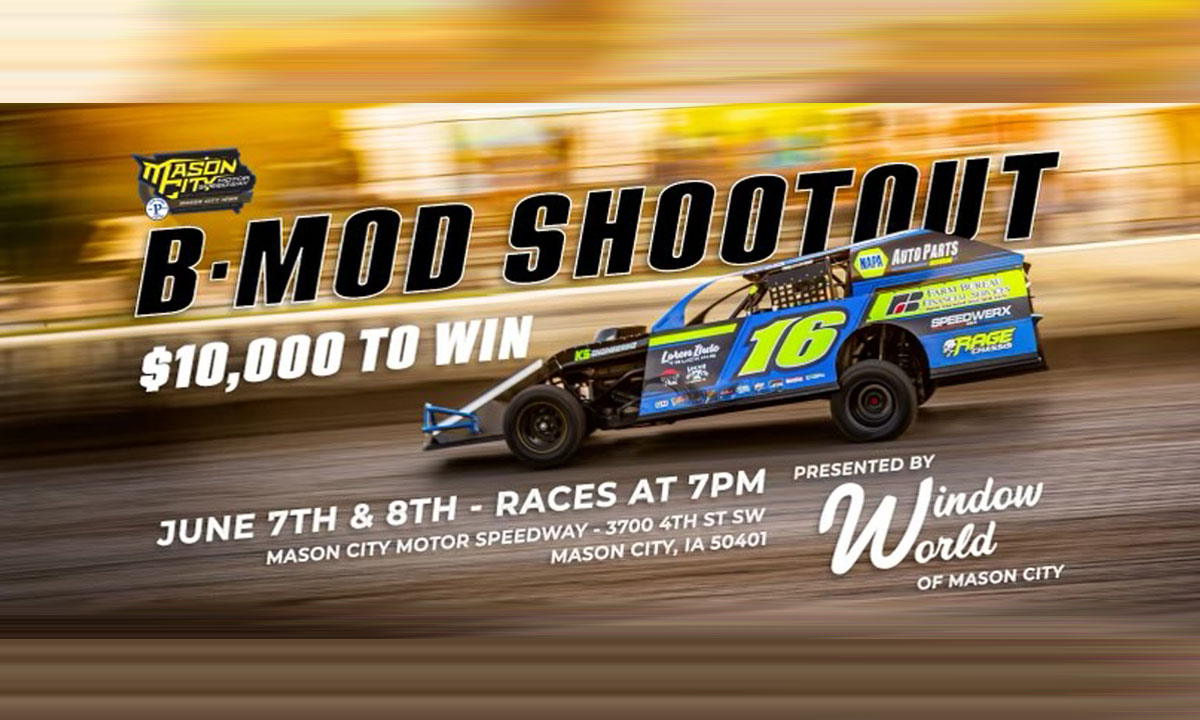 With a possible $10,000 or more to win the main event, the nation's top USRA B-Mod racers are competing at the Pritchard Family Auto Stores Mason City Motor Speedway this week for the B-Mod Shootout presented by Window World.
"This track is a get-up-on-the-wheel and get-after-it kind of track," said promoter Todd Staley. "If you like speed you will like this high-banked speedway."
Following an open practice on Tuesday, racing will take place Wednesday and Thursday, June 7-8, at the North Iowa Action Track in Mason City.
Along with the USRA B-Mods, action will also feature Medieval USRA Stock Cars and USRA Hobby Stocks running a complete show each day while USRA Tuners will makde it a four-division card on Thursday. Summit USRA Weekly Racing Series national points will be awarded in all classes both nights.
USRA B-Mods will be racing for $7,500 to win and $675 to start Thursday's 50-lap championship feature. Think you can rule the pond? Sign up for the Big Fish Challenge and you will be racing for $10,000 to win. The cost is just $50 (cash or check) and if you win Thursday's A-Main the top prize increases to $10,000. Big Fish Challenge entry must be paid prior to first race.
WEDNESDAY, JUNE 7
Wednesday will feature inverted and mixed double heat races for the USRA B-Mods. Drivers ranked 1-10 in passing points are locked into the Dash while those 11-30 in passing points are locked into the Preliminary A-Main.
Preliminary A-Main payout: 1. $300, 2. $200 (top 2 locked into Thursday's A-Main), 3. $175, 4. $150, 5. $125, 6. $100, 7. $95, 8. $90, 9. $85, 10. $80, 11. $75, 12. $70, 13. $65, 14. $60, 15. $55, other starters $50.
THURSDAY, JUNE 8
On Thursday, the Dash starts heads up from the heat races and the finish makes up rows 1-5 for the championship A-Main.
Dash payout: 1-2. $50, 3-4. $60, 5-6. $75, 7-8. $90, 9-10. $100, 11-12. $125.
D-Main payout: 1-12 to C-Main, 13. $150, 14. $140, 15. $130, other starters 125.
C-Main payout: 1-12 to B-Main, 13-24 start 13-24 in Non-Qualifiers Race.
B-Main payout: 1-12 to A-Main, 13-24 start 1-12 in Non-Qualifiers Race.
Non Qualifiers Race payout: 1. $400, 2. $300, 3. $250, 4. $200, 5. $190, 6. $180, 7. $170, 8. $160, other starters $150.
A-Main payout: 1. $7500 ($10,000 if entered in Big Fish Challenge), 2. $3200, 3. $2200, 4. $1500, 5. $1100, 6. $1000, 7. $950, 8. $900, 9. $850, 10. $800, 11. $775, 12. $750, 13. $725, 14. $700, 15. $690, 16. $680, other starters $675.
The pits open at 4 p.m., grandstands open at 5, draw closes at 6:30, the driver's meeting commences at 6:40 and racing gets underway at 7 both days.
USRA rules apply except where noted. All drivers draw Wednesday for heat race lineups prior to the drivers meeting. Qualifying will be done through mixed double heat races with passing points and consolation events prior to Thursday's A-Main. RACEceivers and AMB transponders are mandatory and available at sign-in. USRA B-Mod rules are available at usra.com/rules. Wissota Midwest Modifieds follow Wissota Midwest Modified rules except spoilers are not allowed and must utilize American Racer KK-704 racing tires on rear. Sport Mods follow USRA Alternative B-Mod rules with three (3)-inch spoiler and either tire.
Online tickets are available masoncitymotorspeedway.com/tickets.
The Mason City Motor Speedway is a 1/3-mile clay oval located 5.1 miles east of I-35 at exit 194 on SR 122 (at the North Iowa Fairgrounds). For more information, call (515) 832-6000 or check out MasonCityMotorSpeedway.com. You can also follow us on Facebook, Instagram and Twitter.
For more than two decades, the USRA has attracted more and more racetracks and dirt track racers each year through fair, logical and cost-effective rules accompanied by an organization that puts the racers, racetracks and their fans first. In the 2023 Summit USRA Weekly Racing Series, as many as 60 of America's finest dirt ovals plan to host more than 1,000 nights of racing.
USRA competitors can register online at MyRacePass today. Alternatively, you can call (515) 832-6000 to register by phone, or submit a completed USRA License Application by email at office@usraracing.com or fax (515) 832-7958. You can download the application at usraracing.com/downloads.
To learn more, check out usraracing.com for schedules, points, photos, souvenirs, videos and more. Follow our social media channels on Facebook, Instagram, Twitter and YouTube. Click here to get USRA news delivered to your inbox.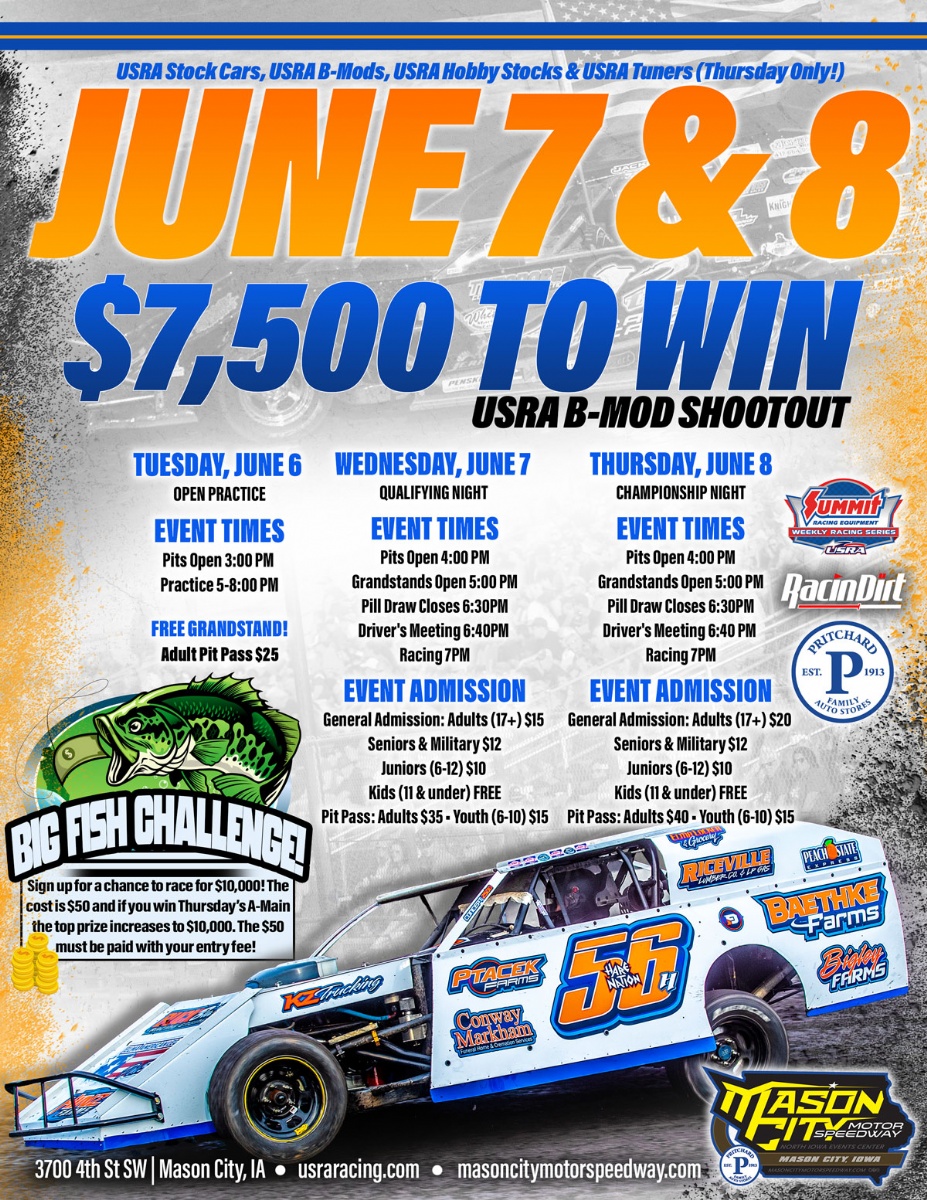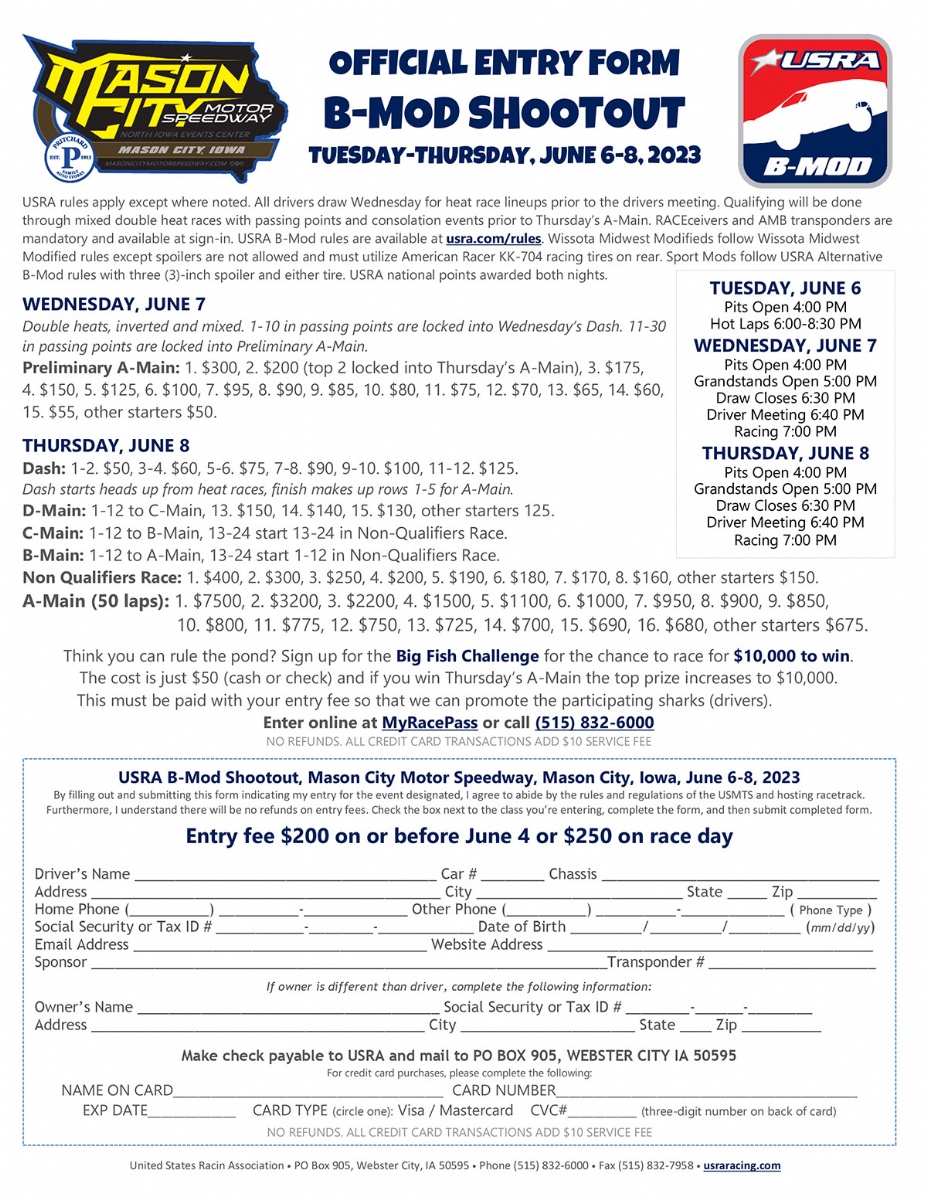 USRA OFFICIAL SPONSORS: American Racer Racing Tires, Beyea Headers, Chevrolet Performance, Christie Door Company, Fast Shafts, FK Rod Ends, KS Engineering, KSE Racing Products, Mesilla Valley Transportation, Nitroquest Media, PEM Racing Gears & Drivetrain, RacinDirt, Summit Racing Equipment, Sunoco Race Fuels.
USRA PARTICIPATING SPONSORS: Allen Autosports Race Cars, ARMI Contractors, Boubin Tire & Automotive, Brodix Cylinder Heads, DAY Motorsports, Duvall Electric, Gunshepherd.com, Innovative AutoGlass & Window Tint, PBM Performance Products, Star 1 Roofing & Construction, Stealth Thru Tubing, Texas Locomotive Solutions, TNT Auto Parts, YouDirt.com.
USRA CONTINGENCY SPONSORS: AFCO Racing Products, Allstar Performance, Bryke Racing, BSB Manufacturing, Champ Pans, Edelbrock, Hooker Harness, Hyperco, Integra Racing Shocks & Springs, JE Pistons, K1 RaceGear by Ryan Bowers, Keyser Manufacturing, Landrum Performance Springs, MD3, Medieval Chassis, MSD, Performance Bodies & Parts, QA1, Quarter Master, QuickCar Racing Products, RacerWebsite.com, Real Racing Wheels, Swift Springs, Sybesma Graphics, Wehrs Machine & Racing Products, Wilwood Disc Brakes.
USRA RACETRACKS: 81 Speedway, Alien Motor Speedway, Ark-La-Tex Speedway, Arrowhead Speedway, Boothill Speedway, Callaway Raceway, Caney Valley Speedway, Cedar Lake Speedway, Crawford County Speedway, Cresco Speedway, Dallas County Speedway, Deer Creek Speedway, Diamond Park Speedway, Eagle Valley Speedway, Elk City Motorsports Park, Fairmont Raceway, Fayette County Speedway, Hamilton County Speedway, Humboldt Speedway, I-35 Speedway, I-90 Speedway, Lakeside Speedway, Lawton Speedway, Legacy Speedway, Longdale Speedway, Lucas Oil Speedway, Mason City Motor Speedway, Mississippi Thunder Speedway, Monett Raceway, Outlaw Motor Speedway, Rapid Speedway, Red Cedar Speedway, Red Dirt Raceway, Rocket Raceway Park, Route 66 Motor Speedway, Sabine Speedway, Salina Highbanks Speedway, Sandia Speedway, Sports Park Raceway, Springfield Raceway, Super Bee Speedway, Texarkana 67 Speedway, Thunder Valley Speedway, Tomahawk Speedway, Tri-State Speedway, Tulsa Speedway, US 36 Raceway, Vado Speedway Park, West Texas Raceway, Winneshiek Raceway.