Donlan, Hovden, Clinton, Schaufenbuel secure Winneshiek Raceway victories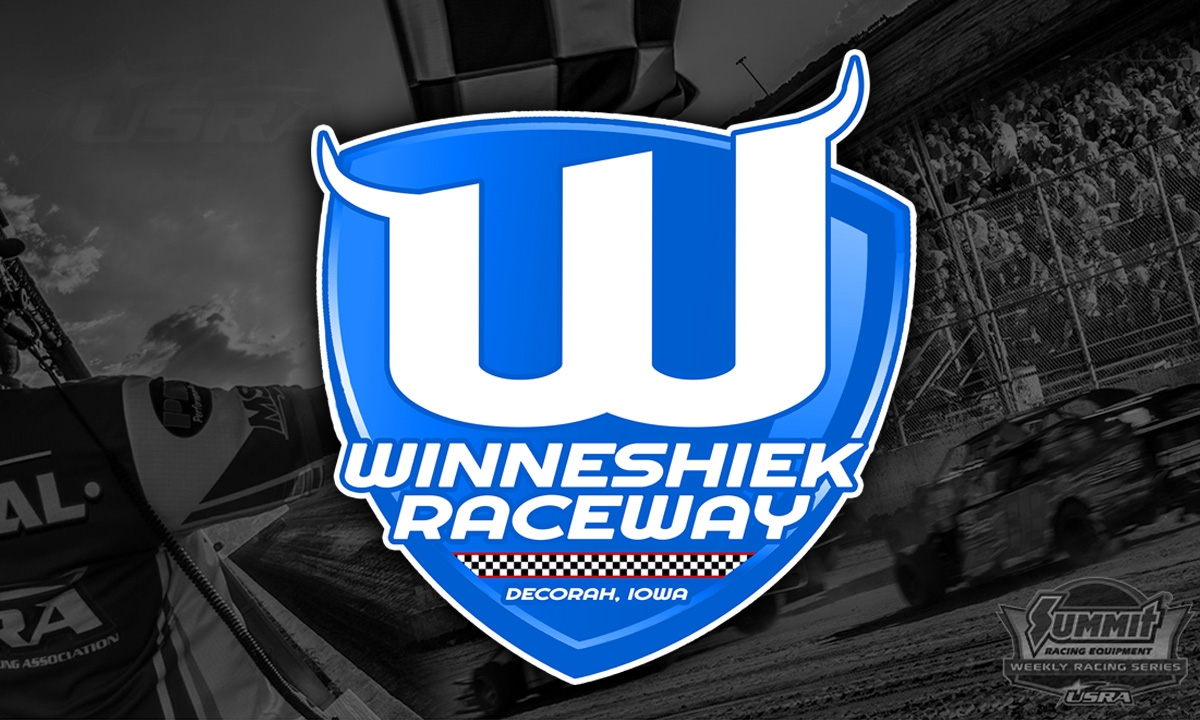 OFFICIAL RESULTS
United States Racing Association
Summit USRA Weekly Racing Series
Winneshiek Raceway, Decorah, Iowa
Saturday, June 3, 2023
Showing finishing position, starting position in parentheses, car number, driver and hometown
MEDIEVAL USRA STOCK CARS
Heat #1:
1. (4) 33 Kevin Donlan, Decorah, Iowa
2. (1) 55 Derek Dettmann, McGregor, Iowa
3. (3) 00 Danny Cole, Lansing, Iowa
4. (6) 23M Matt Jones, Waukon, Iowa
5. (5) 87 Dylan Suhr, New Hampton, Iowa
6. (2) 27 Jason Schlangen, Cresco, Iowa
Heat #2:
1. (2) 15 Mitch Hovden, Decorah, Iowa
2. (3) 22V Jackson Vsetecka, Fort Atkinson, Iowa
3. (4) 34JR Shawn Klapps Jr.., La Crosse, Wis.
4. (6) 40A Andrew Schmitt, Elgin, Iowa
5. (5) 13 Glen Jones, Harpers Ferry, Iowa
6. (1) 36 Dillon Njus, New Hampton, Iowa
Feature:
1. (4) 33 Kevin Donlan, Decorah, Iowa
2. (5) 15 Mitch Hovden, Decorah, Iowa
3. (3) 55 Derek Dettmann, McGregor, Iowa
4. (6) 23M Matt Jones, Waukon, Iowa
5. (7) 87 Dylan Suhr, New Hampton, Iowa
6. (2) 34JR Shawn Klapps Jr.., La Crosse, Wis.
7. (8) 13 Glen Jones, Harpers Ferry, Iowa
8. (1) 00 Danny Cole, Lansing, Iowa
DNS – 22V Jackson Vsetecka, Fort Atkinson, Iowa
DNS – 27 Jason Schlangen, Cresco, Iowa
DNS – 36 Dillon Njus, New Hampton, Iowa
DNS – 40A Andrew Schmitt, Elgin, Iowa
USRA B-MODS
Heat #1:
1. (5) 98 Kyle Anderson, Decorah, Iowa
2. (2) 7 Adam Rogich, La Crescent, Minn.
3. (4) 2 Nathan Butterfield, Galesville, Wis.
4. (3) 16D Dan Hovden, Decorah, Iowa
5. (1) 83 Dylan Crawford, West Union, Iowa
Heat #2:
1. (1) 66K Keagen Einck, Decorah, Iowa
2. (4) 11J Jacob Lynch, Winona, Minn.
3. (2) 25 Dale Schwamman, Fort Akinson, Iowa
4. (3) 28T Philip Ihde, Decorah, Iowa
Feature:
1. (7) 16D Dan Hovden, Decorah, Iowa
2. (2) 98 Kyle Anderson, Decorah, Iowa
3. (1) 25 Dale Schwamman, Fort Akinson, Iowa
4. (3) 2 Nathan Butterfield, Galesville, Wis.
5. (5) 66K Keagen Einck, Decorah, Iowa
6. (6) 11J Jacob Lynch, Winona, Minn.
7. (8) 28T Philip Ihde, Decorah, Iowa
8. (4) 7 Adam Rogich, La Crescent, Minn.
9. (9) 83 Dylan Crawford, West Union, Iowa
USRA HOBBY STOCKS
Heat #1:
1. (4) 22 Steve Larson, Decorah, Iowa
2. (2) 52D B.J. Dahl, Calmar, Iowa
3. (6) 15R Ryan Crooks, Ionia, Iowa
4. (5) 14 Arthur Schott, Clermont, Iowa
5. (1) 4 Trevor Mitts, Clermont, Iowa
6. (3) 95 Shawn Hughes, Postville, Iowa
Heat #2:
1. (1) 18K Dylan Clinton, West Union, Iowa
2. (4) 18 Scott Spilde, Cresco, Iowa
3. (3) 19 Paul Seabrooke, Decorah, Iowa
4. (2) 81 Joshua Ludeking, Decorah, Iowa
5. (5) 75 Michael Minnier, Monona, Iowa
Feature:
1. (6) 18K Dylan Clinton, West Union, Iowa
2. (5) 22 Steve Larson, Decorah, Iowa
3. (8) 81 Joshua Ludeking, Decorah, Iowa
4. (3) 19 Paul Seabrooke, Decorah, Iowa
5. (1) 18 Scott Spilde, Cresco, Iowa
6. (4) 52D B.J. Dahl, Calmar, Iowa
7. (10) 75 Michael Minnier, Monona, Iowa
8. (9) 4 Trevor Mitts, Clermont, Iowa
9. (2) 15R Ryan Crooks, Ionia, Iowa
10. (11) 95 Shawn Hughes, Postville, Iowa
11. (7) 14 Arthur Schott, Clermont, Iowa
USRA TUNERS
Heat #1:
1. (4) 35 Brad Stahl, Castalia, Iowa
2. (2) 28 Braiden Schaufenbuel, New Hampton, Iowa
3. (1) 48 Ty Monserud, Waukon, Iowa
4. (3) 16 Isaiah Ruckdashel, Clermont, Iowa
5. (5) 38 Dalton Fels, Calmar, Iowa
Heat #2:
1. (1) 18H Josh Hills, Elkader, Iowa
2. (2) 22R Mike Reicks, New Hampton, Iowa
3. (5) 56 Katie Stahl, Castalia, Iowa
4. (3) 15 Dillon Riehle, Waukon, Iowa
5. (4) 5K Perry Kessel, Cresco, Iowa
Feature:
1. (1) 28 Braiden Schaufenbuel, New Hampton, Iowa
2. (3) 22R Mike Reicks, New Hampton, Iowa
3. (2) 35 Brad Stahl, Castalia, Iowa
4. (4) 18H Josh Hills, Elkader, Iowa
5. (9) 38 Dalton Fels, Calmar, Iowa
6. (6) 56 Katie Stahl, Castalia, Iowa
7. (8) 15 Dillon Riehle, Waukon, Iowa
8. (5) 48 Ty Monserud, Waukon, Iowa
9. (10) 5K Perry Kessel, Cresco, Iowa
10. (7) 16 Isaiah Ruckdashel, Clermont, Iowa
For more than two decades, the USRA has attracted more and more racetracks and dirt track racers each year through fair, logical and cost-effective rules accompanied by an organization that puts the racers, racetracks and their fans first. In the 2023 Summit USRA Weekly Racing Series, as many as 60 of America's finest dirt ovals plan to host more than 1,000 nights of racing.
USRA competitors can register online at MyRacePass today. Alternatively, you can call (515) 832-6000 to register by phone, or submit a completed USRA License Application by email at office@usraracing.com or fax (515) 832-7958. You can download the application at usraracing.com/downloads.
To learn more, check out usraracing.com for schedules, points, photos, souvenirs, videos and more. Follow our social media channels on Facebook, Instagram, Twitter and YouTube. Click here to get USRA news delivered to your inbox.