Seven Summit USRA Weekly Racing Series events at Lucas Oil Speedway lined up for MAVTV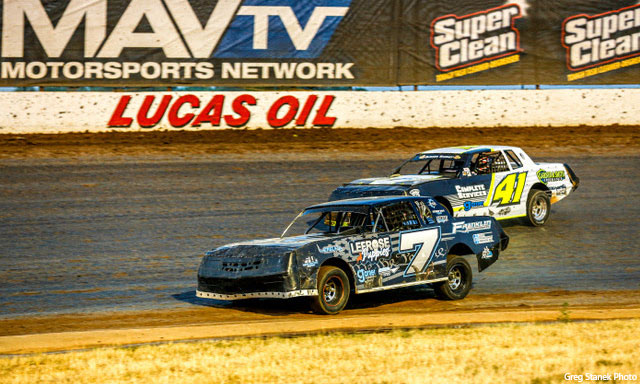 The cameras and production studio of MAVTV Motorsports Network will return to Lucas Oil Speedway frequently again in 2023, with seven Summit USRA Weekly Racing Series programs scheduled to be televised.
Lucas Oil Speedway Saturday Night Racing will feature from weeks 1, 2, 5, 8, 9, 10 and 13. The shows will be taped and shown at dates to be announced on MAVTV.
Other MAVTV productions include the 10th annual MLRA Spring Nationals, 14th Annual USMTS Slick Mist Show-Me Shootout, Ron Jenkins Memorial and the final night of the Summit USRA Nationals presented by Cherolet Performance.
"We're pleased to have been able to work with MAVTV to put together another great schedule and I'm especially happy that we'll be able to give our Weekly Racing Series drivers and their sponsors some tremendous television exposure," Lucas Oil Speedway General Manager Danny Lorton said.
Weekly Racing Series divisions consist of the Cedar Creek Beef Jerky USRA Modifieds, O'Reilly Auto Parts USRA Stock Cars and Ozark Golf Cars USRA B-Mods, plus the Hermitage Lumber Late Models.
Lucas Oil Speedway's schedule begins with an open test 'n' tune on March 18 from 2-6 p.m.. The Big Adventure Weekly Racing Series Weekly Opener kicks off the season on March 25.
Drivers must register their information on MyRacePass for the upcoming season and may do so on the Drivers Dashboard at LucasOilSpeedway.com. The driver forms link will allow drivers to find both their membership and license application along with driver/owner W9 and driver medical form.
Downloading those forms and filling them out ahead of time and returning to Office Manager Laurie Looney at llooney@lucasoilspeedway.com before opening night of the regular season is preferred. The forms also can be printed and dropped by the office at the test 'n' tune or prior to opening night.