Summit USRA Nationals, track championships highlight 2022 Lucas Oil Speedway season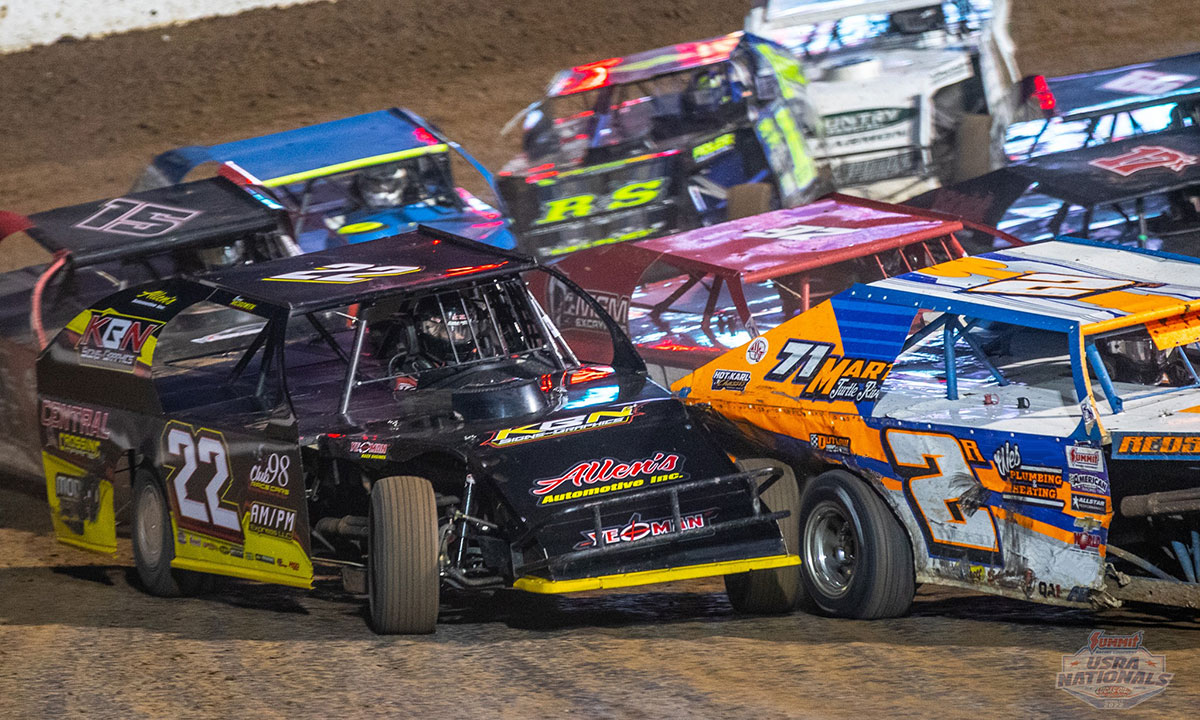 With another great season in the books at Lucas Oil Speedway, it's time for our annual look back at the top events and champions from the 2022 Summit USRA Weekly Racing Series.
USRA Nationals return for week-long festival
With more than 300 cars in eight divisions overflowing the pits, the 9th annual Summit USRA Nationals expanded to five nights following a practice night in early October.
Highlighting the action were the top modified divisions as Tyler Wolff of Fayetteville, Arkansas, dominated the week in the USRA Modifieds and Ryan Gillmore of Springfield was the strongest from start-to-finish in the B-Mods.
The final night saw Wolff lead all 40 laps to earn a decisive feature victory. Wolff swept his qualifying races earlier in the week, started on the pole and drove to a three-second victory over runner-up Kevin Stoa. Wolff took home $4,000 for his eighth feature victory of 2022.
Gillmore also topped off a perfect week by leading the USRA B-Mod championship feature all 35 laps, posting his second career USRA Nationals triumph. Gillmore won all four of his qualifying heats plus the Summit Shootout earlier in the week. Gillmore held off Brandon Hare for the victory, his 13th of the season. He took home $2,000.
Other winners were Dylan Thornton (Medieval USRA Stock Cars), Dylan Clinton (USRA Hobby Stocks), Kory Ressie (USRA Late Models), Brad Stahl (USRA Tuners), Rowdy Day (USRA Limited Mods) and Craig Pursley (Sunoco USRA Factory Stocks).
Make it a record seven for Jackson
In a race that summed up a season-long battle between the top two USRA B-Mod drivers, Kris Jackson of Lebanon held off Ryan Gillmore by half a second for his fifth feature win of the season on July 23.
"I could hear him that whole race," Jackson said of Gillmore. "I don't know if he was trying the outside lane or not, but I knew if I made one little bobble he'd be there."
Jackson, who debuted a new J2 Chassis in 2022, went on to earn his record seventh Lucas Oil Speedway track championship with six feature victories and 10 top-five finishes. He edged out Gillmore by 17 points at the end of the season for add another championship to the title runs he enjoyed from 2012-2014 and again from 2019-2022.
McCowan repeats as USRA Modified champ
Some wins are more exciting than others and Dillon McCowan enjoyed one of his most thrilling feature victories on June 11 in the USRA Modified division. McCowan drove from a 14th-starting position all the way to the front to capture the $1,000 triumph.
The 18-year-old took lead on lap 23 out of turn 4. McCowan, of Urbana, beat Nick Bidinger by a car length for his fifth feature victory of the season. Afterward, he spoke of how special it was to win in front of his grandpa, A.D. McCowan.
"I want to say a special shout-out to my grandpa. He's not been here in a while and this is one of the more special ones because he got to be here and we came from the back," McCowan said.
McCowan's feature win was one of seven in the Big Adventure RV Weekly Racing Series as he successfully repeated his track championship.
Bryan White wins USRA Stock Cars title in family battle
Rempfer Memorial Season Championship Night saw three of the four championship chases decided by less than 25 points, with the closest battle in the Medieval USRA Stock Cars. Bryan White's third-place feature finish enough to edge out his dad, Rob White, for the championship.
Bryan White, who began the night 12 points ahead of Rob, finished third with Rob in second. The unofficial final margin between the two was eight points. Mason Beck, who began the night two points behind Bryan White, ran 15th to fall back to third in the points.
"I'd like to thank everybody on my car, my family over here and everybody who helps me every week," Bryan White said. "It's just a dream, really, to even win a race over here let alone a championship."
For information regarding gift certificates which can be used in various areas of the speedway in 2023, contact Lucas Oil Speedway Admissions Director Nichole McMillan at (417) 282-5984 or by email at nichole@LucasOilSpeedway.com.