Lucas Oil Speedway unveils tentative 2023 schedule
October 24, 2022

by Lyndal Scranton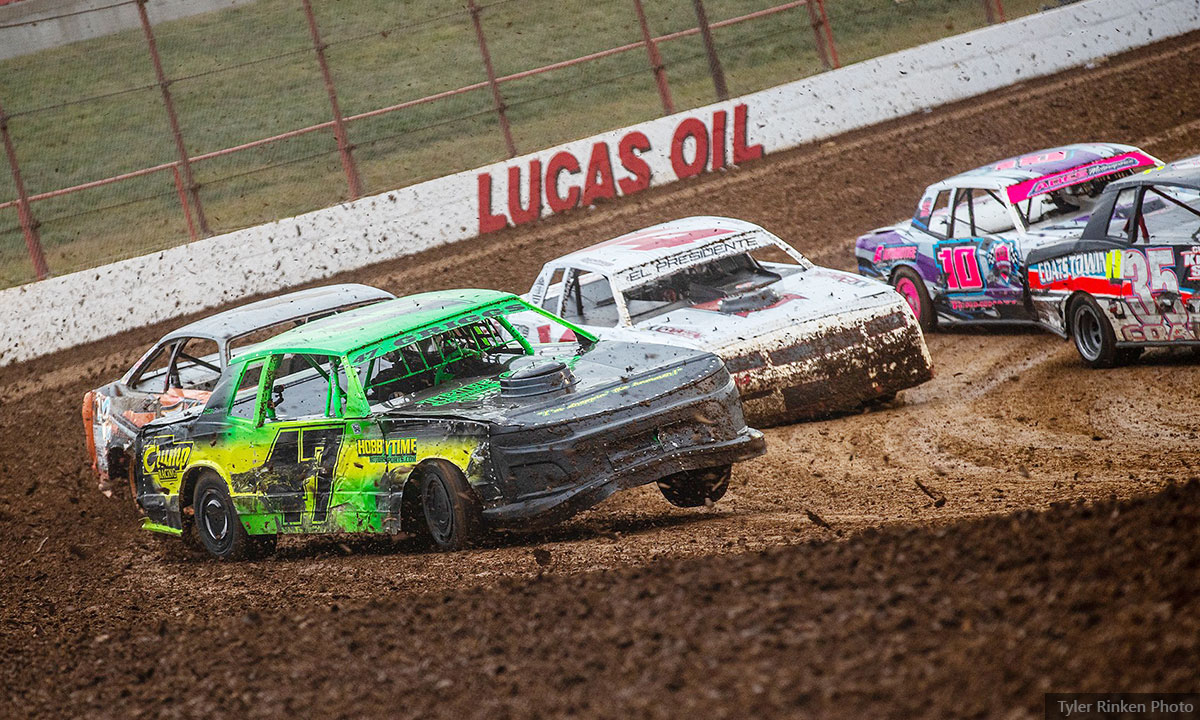 With the final action of the 2022 season in the books, Lucas Oil Speedway has unveiled its tentative 2023 schedule. Along with the Big Adventure RV Weekly Racing Series and traditional specials, there are some notable new additions for the year ahead.
Engines will fire up a bit earlier with an open test and tune set for Saturday, March 18, followed by the Summit USRA Weekly Racing Series opener one week later. General Manager Danny Lorton said the weekly classes remain the same with USRA Modifieds, Medieval USRA Stock Cars, USRA B-Mods and Late Models.
A total of 14 Summit USRA Weekly Racing Series events are scheduled, capped by the Rempfer Memorial Season Championship Night Presented by Bill Roberts Chevrolet-Buick on August 26.
Three Thursday Night Madness events bring weeknight racing to the speedway with USRA Tuners in action May 4. The traditional Thursday Night Thunder featuring fireworks presented by KY3 and the annual kids bicycle giveaway is set for June 29.
The 10th Annual Summit USRA Nationals makes its third straight appearance to the Lucas Oil Speedway with an expanded schedule running from Oct. 2-7.
"We're excited to put this schedule together and release it early, so fans and drivers can begin to make plans for 2023," Lorton said. "We've combined our traditional aspects of the schedule with some expanded Thursday Night Madness specials, plus the MidAmerica Outdoors which should turn out to be a big event on the Off Road Course as they had 273 racers run that series last season."
Season passes for 2023 will go on sale later this winter, along with gift cards which make great holiday gifts and can be used in any department at the speedway. To inquire about ticket information or 2023 camping, contact Admissions Director Nichole McMillan at (417) 295-6043 or via email at nichole@lucasoilspeedway.com.
Summit USRA Weekly Racing Series
Lucas Oil Speedway, Wheatland, Mo.
2023 Schedule of Events
March 25 – USRA Modifieds, Medieval USRA Stock Cars, USRA B-Mods
April 1 – USRA Modifieds, Medieval USRA Stock Cars, USRA B-Mods
April 8 – Medieval USRA Stock Cars
April 15 – USRA Modifieds, Medieval USRA Stock Cars, USRA B-Mods
April 21 – USRA Modifieds
April 22 – Medieval USRA Stock Cars, USRA B-Mods
April 29 – USRA Modifieds, Medieval USRA Stock Cars, USRA B-Mods
May 4 – USRA Tuners
May 13 – USRA Modifieds, Medieval USRA Stock Cars, USRA B-Mods
June 3 – USRA Modifieds, Medieval USRA Stock Cars, USRA B-Mods
June 10 – USRA Modifieds, Medieval USRA Stock Cars, USRA B-Mods
June 17 – USRA Modifieds, Medieval USRA Stock Cars, USRA B-Mods
June 24 – USRA Modifieds, Medieval USRA Stock Cars, USRA B-Mods
June 29 – USRA Modifieds, Medieval USRA Stock Cars, USRA B-Mods
July 8 – USRA Modifieds, Medieval USRA Stock Cars, USRA B-Mods
July 15 – USRA Modifieds, Medieval USRA Stock Cars
July 22 – USRA Modifieds, Medieval USRA Stock Cars, USRA B-Mods
July 29 – USRA Modifieds, Medieval USRA Stock Cars, USRA B-Mods
Aug. 5 – USRA Modifieds, Medieval USRA Stock Cars, USRA B-Mods
Aug. 19 – Medieval USRA Stock Cars
Aug. 26 – USRA Modifieds, Medieval USRA Stock Cars, USRA B-Mods
Sept. 1-2 – USRA Modifieds, Medieval USRA Stock Cars, USRA B-Mods
Oct. 2-3 – USRA Modifieds, Medieval USRA Stock Cars, USRA B-Mods, USRA Hobby Stocks, USRA Late Models, USRA Tuners, USRA Limited Mods, Sunoco USRA Factory Stocks
Schedule is tentative and subject to change