Salute to the Racing Heroes canceled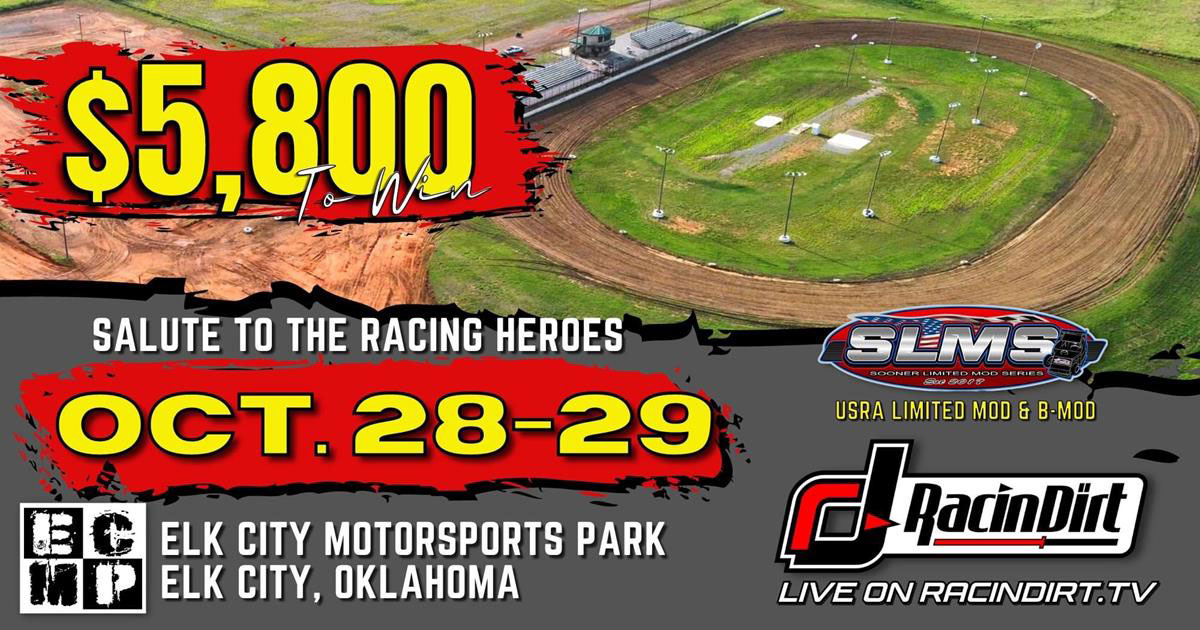 This event has been canceled with plans to reschedule the event in 2023. This also concludes the 2022 racing season at the track.
This Friday and Saturday, October 28-29, is the biggest USRA Limited Mod payout in the history of the Elk City Motorsports Park and State of Oklahoma with the Salute to the Racing Heroes.
This will be an event you don't want to miss. Just a reminder, Southern SportMods can run as a Limited Mod and Northern SportMods can run as a B-Mod as long as they remove the spoiler and swap to American Racer tires.
With a total purse of $40,820 announced, the event pays $5,800 to win and $750 to start. National points will be awarded in the Summit USRA Weekly Racing Series as well as Sooner Limited Mod Series points.
Practice takes place on Thursday from 5-9 p.m. with a pit party and live DJ afterwards, and then racing on Friday and Saturday.
A free pancake breakfast presented by Jay's Brake & Alignment happens Friday and Saturday morning from 9 a.m. to 12 noon.
Free Dry Camping (no hookups)
Reserved Pit Stalls $50 (covers all 3 days - payable at pit gate - OK to leave trailers until Sunday)
GRANDSTAND ADMISSION:
• Thurs Practice FREE
• Fri & Sat:
$15 Adult 16-64yrs ($25 - 2 day pass)
$10 Youth 8-15yrs, Seniors 65+, All Military & 1st Responders ($15 - 2 day pass)
Kids Under 8yrs FREE
PIT PASSES:
$25 per day or $60 all 3 days
Kids Welcome*Babies Under 2yrs Free
SCHEDULE:
Thurs. Oct. 27
• 5-9pm Open Practice
• 9pm-12am Free Pit Party w/ Live DJ
Fri. Oct. 28
• 9am-12 Free Pancake Breakfast presented by Jay's Brake & Alignment - Everyone in Town Invited! Additional food & beverages available at our concession stand.
• 3pm Pit Gates Open
• 5pm Grandstands Open
• 7pm Ltd. Mod Qualifying Heats & Hemp Hill Dispensary A-Main for Heat winners + USRA Tuners
• 10pm-? Free Pit Party w/ Live DJ
Sat. Oct. 29
• 9am-12 Free Pancake Breakfast
presented by Jay's Brake & Alignment - Everyone in Town Invited! Additional food & beverages available at our concession stand.
• 3-5pm Free Trailer Trick or Treat & Costume Contest in the Pits w/ the racers! Presented by RTR Rental Homes and Jay's Brake & Alignment
• 5pm Grandstands Open
• 7pm Ltd. Modified C, B & A-Mains presented by Red Hot Steamers and Shannon's Custom Paint & Body + USRA/Mid-America Factory Stocks + Vintage Racers
FRIDAY's Hemp Hill Dispensary Ltd. Mod A-Main payout: (This is just an extra event for heat winners on Friday and does not effect Saturday's events.)
1st $700
2nd $500
3rd $300
4th $200
5th $100
FREE & OPEN TO ALL 3-5pm!
See the track & meet the racers!
Our Saturday Trick or Treat and Costume Contest is FREE TO EVERYONE thanks to Jay's Brake & Alignment and RTR Rental Homes with Tons of Prizes for Top 3 in All Age Groups! More donations accepted (message us). LOCAL BUSINESSES ARE WELCOME TO COME AND HAND OUT CANDY & GOODIES TOO from 3-5pm!
Costume Contest Age Groups:
5 & under
6-9yrs, $25 1st Place
10-13, $50 1st Place
14-17, $100 1st Place
18-21,
21+