I-35 Speedway racing this Saturday
August 22, 2023

by J.D. Green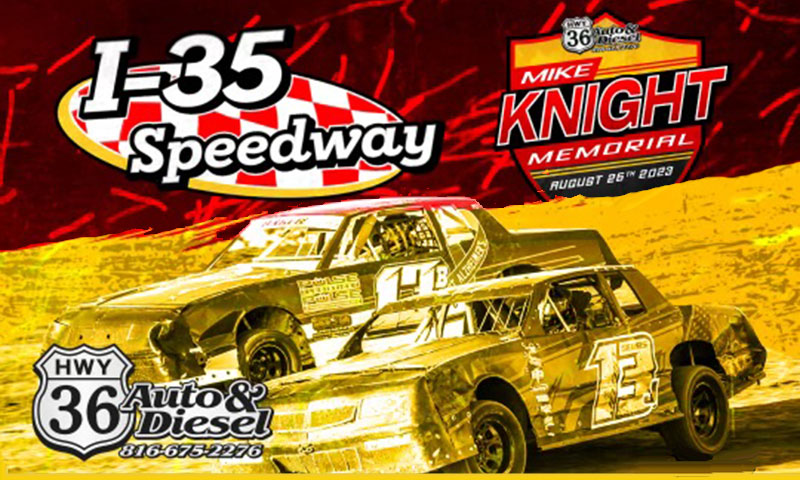 Great racing, exciting racing, competitive racing, side-by-side racing... it's all this Saturday, Aug. 26, at the I-35 Speedway in Winston, Mo., on Hwy 36 Auto & Diesel Night featuring the Mike Knight Memorial.
Racing family means a family that loves first and foremost. What ties us together at I-35 Speedway is our sport, the excitement, fun, speed and thrills, but we become family, race fans, racecar drivers, pit crews, officials and owners.
Our racing family celebrates the memory of former dirt track guru Mike Knight with bonus money from the Knight family padding the purse.
Summit USRA Weekly Racing Series classes racing this weekend include USRA Modifieds, Medieval USRA Stock Cars and USRA B Mods. Pure Stocks, Sport Compacts, E Mods, Limited Late Models, Vintage Open and Junior Sport Compacts are also on the card.
Pit gates open at 4 and grandstands open at 4:30. Pill draw closes and drivers meeting happens at 6. Hot laps are immediately after drivers meeting with the last session taking the track at 6:50. Racing starts at 7p.m.
Be there this Saturday for the last race of August before we move to September racing starting on Sept. 2.
RACE FAN INFORMATION
Adult tickets are $15, seniors and military are $12 and youth ages 18 and under get in for free (ID may be requested). Located a quarter-mile east of Interstate 35 at exit 64, the I-35 Speedway features free parking plus mom-approved restrooms.
Concessions are available at the Trackside Bar & Grill in turn one and the gate entrance near turn four. Funnel cakes, chili dogs, large tenderloins, hot fries, walking tacos, hot dogs, hamburgers and popcorn, plus tea, water, pop, coffee, hot chocolate and beer are all available.
Be on the lookout for the McCarthy Auto Group upgrades as they upgrade fans with suite seats, pit passes and food vouchers each week.
Get your chance to be Fan of the Week. Sign up at the gate entrance of the I-35 Speedway where you get the most racing for your money.
DRIVER & PIT CREW INFORMATION
Pit passes are $35 for competitors or $40 for crew members and pit-side spectators. Kids ages 6-10 are $25 and children under 6 are free with a paid adult. Minors ages 17 and under must have a completed an signed Minor Release Form to enter pits.
Competitors are encouraged to register with the I-35 Speedway on MyRaceRass or print the form at i-35speedway.net, complete it and bring with you. a one-night temporary registration is $15.
Competitors in USRA-sanctioned classes must register with the USRA, or a temporary one-night licenses may be purchased at the track for $10. USRA Alternative B-Mod rules apply. Download the USRA rules at usraracing.com/rules.
Other class rules and purses for all classes can be found at i-35speedway.net.
Competitors 17 and younger must submit a completed and signed Minor Release Form which must include a copy of the competitor's birth certificate with a valid state stamp or authentic seal.
Fuel (110 and Premium) is available at the track. American Racer racing tires are also for sale at the track, along with Champion Race Products oil, power steering fluid, brake fluid, gear oil and more.
For more than two decades, the USRA has attracted more and more racetracks and dirt track racers each year through fair, logical and cost-effective rules accompanied by an organization that puts the racers, racetracks and their fans first. In the 2023 Summit USRA Weekly Racing Series, as many as 60 of America's finest dirt ovals plan to host more than 1,000 nights of racing.
USRA competitors can register online at MyRacePass today. Alternatively, you can call (515) 832-6000 to register by phone, or submit a completed USRA License Application by email at office@usraracing.com or fax (515) 832-7958. You can download the application at usraracing.com/downloads.
To learn more, check out usraracing.com for schedules, points, photos, souvenirs, videos and more. Follow our social media channels on Facebook, Instagram, Twitter and YouTube. Click here to get USRA news delivered to your inbox.