ARMS fires off at five tracks in nine days for end of summer swing
August 10, 2023

by Erick Chesterman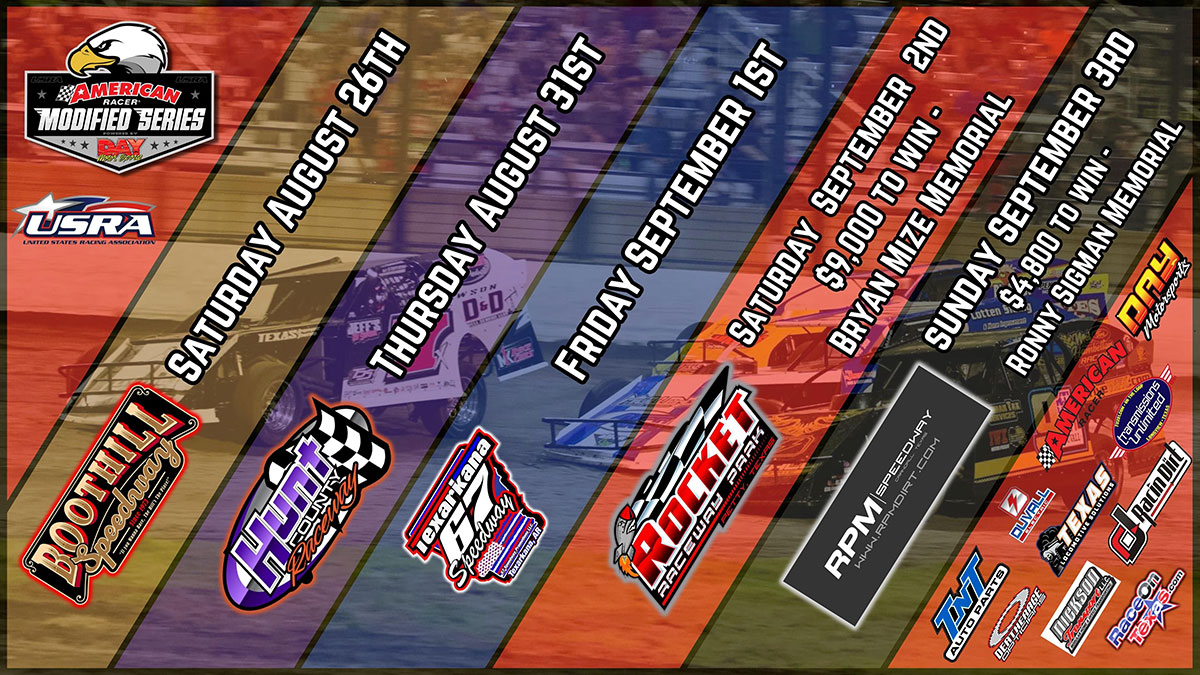 In just over two weeks, the American Racer USRA Modified Series presented by Day Motor Sports will embark on arguably the busiest and most lucrative stretch in series history.
On Saturday, Aug. 26, the series hits the Boothill Speedway in Greenwood, La.—a mere 25-minute drive from the Bossier-Shreveport casino district.
"Big Daddy" Joe Duvall leads the series back to the south in search of more cash but it was Marshall, Texas, resident Chris Henigan who struck gold back in May during the series' first stop at popular northwestern Louisiana oval.
After a few days rest, the series embarks on a four-day stretch beginning Thursday, Aug. 31, at the Hunt County Raceway in Greenville, Texas. Formerly called Superbowl Speedway prior to this season, the new owners are helping keep racing alive at the popular venue.
From there the ARMS trek to the northeast, stopping to spread soil in Arkansas at the Texarkana 67 Speedway in Texarkana on Friday, Sept. 1.
The stakes take a big jump when the series migrates back to the Rocket Raceway Park in Petty, Texas for the Bryan Mize Memorial on Saturday, Sept. 2. Featuring a $9,000 top prize for its ninth annual instamment, "The Mize" offers huge car counts, a star-studded fied and Texas-sized glory to the driver who comes out on top.
While it remains a mystery if he'll return to defend his crown, last year it was late model regular and former modified star Cade Dillard who picked up the win, inheriting the lead after Tyler Daivs felt his engine hit its expiration date.
Originally scheduled for Ark-La-Tex Speedway, unforeseen issues have forced track officials to drop Sunday, Sept. 3 off their schedule, sending American Racer USRA Modified Series series officials searching for a replacement to cap off the holiday weekend.
Fortunately, the search party didn't venture far, landing a date at the RPM Speedway in Crandall, Texas, for the Ronny Sigman Memorial—a night that will see the roofs come off to battle it out topless, and $4,800 waits for the winner of the 48-lap main event.
Both less than 80 markers back from Joe Duvall, Sean and Kenny Gaddis are locked in a friendly family battle for the runner-up spot in the ARMS points standings. Behind them, Kale Westover and Chris Dawson are tied for the fourth and fifth spots.
Complete purse breakdown and event details will be posted soon. We expect stout car counts and huge crowds over the Labor Day Weekend swing.
REMAINING 2023 USRA ARMS SCHEDULE
Sat Aug 26 – Boothill Speedway, Greenwood, La.
Thu Aug 31 – Hunt County Raceway, Greenville, Texas
Fri Sep 1 – Texarkana 67 Speedway, Texarkana, Ark.
Sat Sep 2 – Rocket Raceway Park, Petty, Texas
Sun Sep 3 – RPM Speedway, Crandall, Texas
Fri Oct 27 – Rocket Raceway Park, Petty, Texas
Sat Oct 28 – Rocket Raceway Park, Petty, Texas
Each of the venues will host one or more events with a minimum of $2,000 to win, an unmatched year-end points fund as well as Summit USRA Weekly Racing Series national points.
With a schedule currently featuring 18 nights of racing at the finest dirt ovals in Arkansas, Louisiana, Oklahoma and Texas, each racer's best 16 performances are factored in for series points.
Special thanks to American Racer, ARMI Contractors, Day Motor Sports, Duvall Electric, RaceOnTexas.com, RacerWebsite.com, RacinDirt.TV, Star 1 Roofing & Construction, Summit Racing Equipment, Texas Locomotive Solutions, TNT Auto Parts and Transmissions Unlimited for their support of the American Racer USRA Modified Series powered by Day Motor Sports.
More information about the ARMS is available at usraracing.com. You can also get social with the ARMS on Facebook and Twitter.
Drivers can pre-enter for any or all ARMS events at MyRacePass.
Watch every ARMS event online live on RacinDirt and RaceOnTexas.