USRA Modifieds chase $1,000 prize Saturday at Lucas Oil Speedway
April 25, 2023

by Lyndal Scranton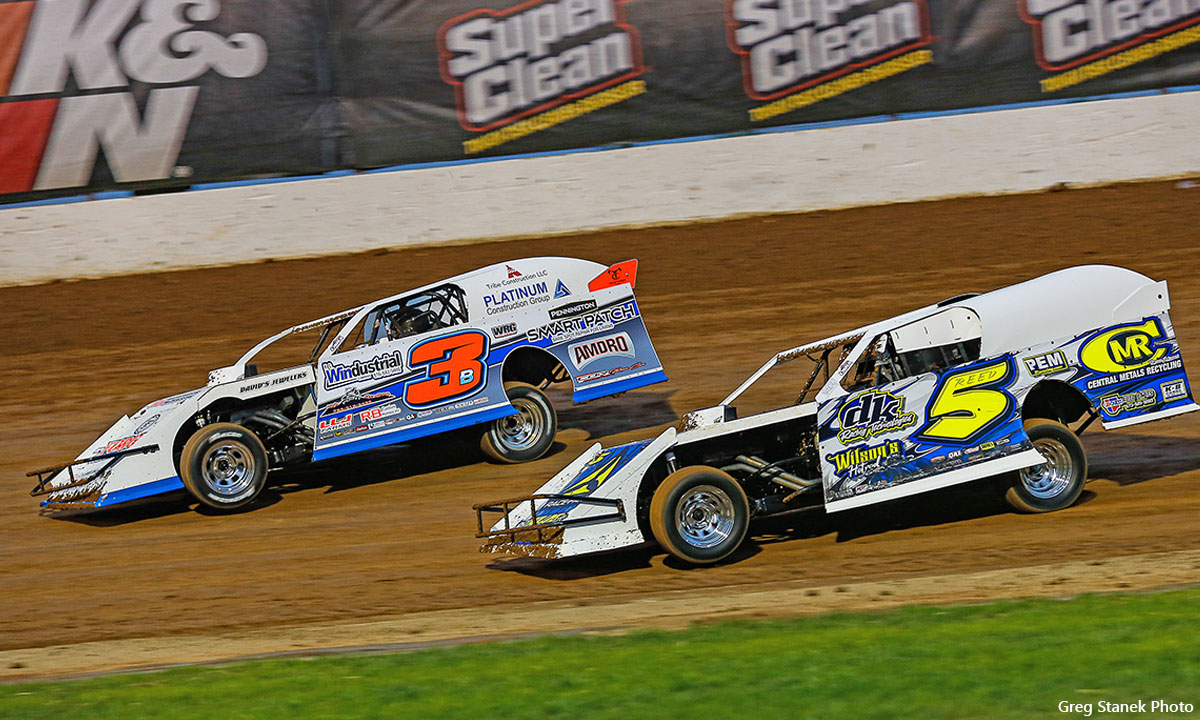 Three close points battles will continue on Saturday night at Lucas Oil Speedway as Round 4 of the Big Adventure RV Weekly Racing Series Presented by KCTV-5 in Kansas City takes place.
The Cedar Creek Beef Jerky USRA Modifieds will headline the action with a special 25-lap, $1,000-to-win main event. The Hermitage Lumber Late Models, O'Reilly Auto Parts USRA Stock Cars and the Ozark Golf Cars USRA B-Mods also will be in action in 20-lap main events.
In the USRA Modified division, Ryan Middaugh of Fulton took over the points lead after his first feature victory of the season last weekend. Middaugh has a 19-point margin over two-time track champion Robbie Reed of Mexico, with Jason Pursley 40 points behind the leader.
It's all even in the O'Reilly Auto Parts USRA Stock Cars as last week's feature winner Mason Beck of Urbana and two-time winner Rob White of Lebanon are tied atop the standing. The duo is 51 points clear of third-place William Garner.
Bobby Williams of Hermitage has climbed atop the Ozark Golf Cars USRA B-Mod standings after his third top-five finish of the season. Williams is just three points in front of Nevada's Brice Gotschall.
Grandstand gates at the dirt track open at 5 p.m. with hot laps at 6:30 and racing at 7:05.
Kids Power Wheel races return: During intermission will be the second Kids' Power Wheel races of the season. For ages 3-through-9, the races will be on the front straightaway with the youngsters navigating a course outlined by orange cones.
The kids can enter their own battery-powered Power Wheel cars by signing up for the Frogs Jr. Fan Club on the south end of the Midway prior to the races. Other Kids Power Wheel nights are scheduled for May 13, June 17, July 29 and Aug. 26 when a mini-season-champion will crowned along with the four regular Weekly Racing Series classes.
One Kids Power Wheel class will be the 6-12 volt cars and another will be for the 24-36 volt class. No power or speed enhancement modifications will be allowed.
The youngsters can bring their Power Wheels to the Frogs Jr Fan Club sign-in, or drop them off at the pit gate and the Power Wheels will be brought to the front stretch at intermission.
Saturday Dirt Track admission:
Advance Discount Tickets online only (16 and up) - $12
Adults (16 and up) - $15
Seniors/Military (62 and up) - $12
Youth (6-15) - $5
Kids (5 and under) - FREE
Family Pass (Includes admission for two adults and up to thre kids ages 6-16) - $35
Pit Pass - $35
On Saturday, racing at the Off Road track is scheduled to begin at 9 a.m. with feature races concluding prior to the dirt-track action that evening. Fans purchasing Off Road tickets on Saturday or two-day Off Road admission will have free admission into Saturday night's Big Adventure RV Weekly Racing Series program next door on the dirt oval.
For information about any event at Lucas Oil Speedway in 2023 contact admissions director Nichole McMillan at (417) 282-5984 or email her at nichole@lucasoilspeedway.com for more information.