With 200 people in attendance, the Springfield Raceway honored the top drivers from the 2018 season in the Ssummit USRA Weekly Racing Series.
For USRA Modified driver Jody Tillman of Branson West, it was his first USRA track championship in the division. While Tillman has always been in the winners circle, things just seemed to jell for the driver of the Indian Point Marina/Yeoman Engines/Hoffman No. 85. Tillman came out of the gate quickly at the start of the season and earned an Allstar Performance Allstar of the Week Award from USRA.
"Without help from Denny Flood and my dad, this would be hard to do," Tillman said. "We came from the full-bodied factory stock class and won many races and championships. This championship ranks right up there with my Turkey Bowl win a few seasons ago as this USRA Modified class is tough every time you check in and every night we had a great track to race at."
Multi-time USRA Modified track champion Jackie Dalton didn't plan on racing in 2018. He sold his race car, truck and trailer just before the start of the season when his father put a deal together to place Jackie in an Out-Pace USRA B-Mod presented by Reliable Chevrolet. They showed up at the March Madness race in an open trailer with some loyal long-time sponsors as Dalton had to readjust himself to the difference between the two cars, but by mid-season was hitting his stride in the tough class and claimed the season championship while starting around mid-pack after the qualifying heats.
"My dad didn't want to see me on the sidelines and really worked hard on this deal," Dalton said. "Without him and his work this wouldn't have happened in his Auto Express/Garretson Performance/GMPP/Hoffman No. 21."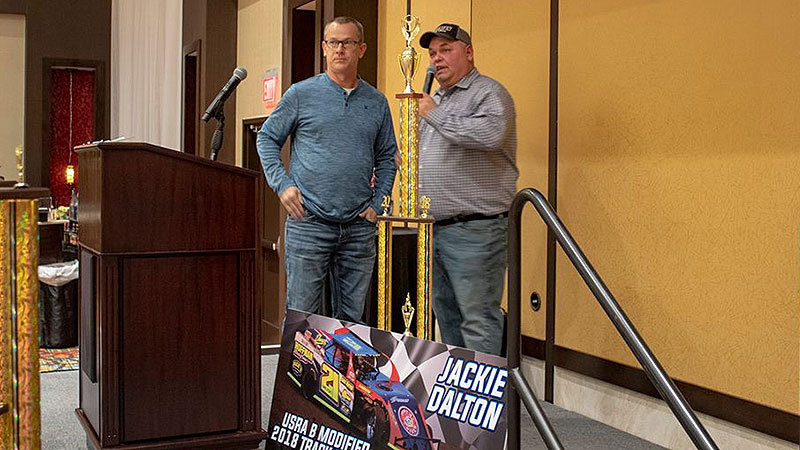 A special award was given to Gilmore Photography for all of the seasons of being the track photographer. Ryan Gilmore used to do the picture-taking while parents Tammy and Buck would handle the sales table. When Ryan, the 2017 Out-Pace USRA B-Mod National Champion, went to wheeling Modifieds, Tammy was keeping busy snapping the high-speed action every Saturday night while Buck was turning wrenches for his son. With Tammy's new work schedule and not being able to watch her son compete at other events, 2018 was the final season of being the Official Photographer as owner Jerry Hoffman put together a very nice farewell package for the family.
Bill Schahuber was awarded as the Out-Pace USRA B-Mod Rookie of the Year Award.
The first race of the 2019 season will be March Madness on Saturday, March 9, with Out-Pace USRA B-Mods competing to 1,000 to win and awarding Summit USRA Weekly Racing Series national points.
For more information visit springfieldraceway.com and keep updated on the track's Facebook page.