The Deer Creek Speedway hosted their 2018 awards banquet at the Rochester International Event Center on January 12. A large crowd was in attendance to see the celebration and to honor the top drivers from 2018.
The awards portion of the program started off with the track's specialty awards. Kadden Kath was voted Most Improved in the Out-Pace USRA B-Mods, and also earned the Sportmanship Award. Nate Wasmund was recognized as most improved in the USRA Modifieds.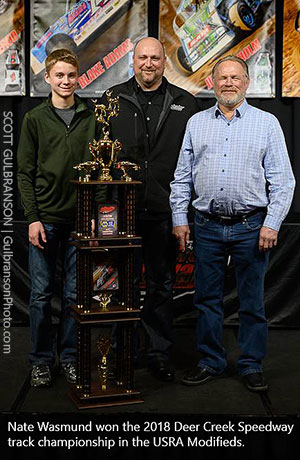 Then the top three in the Blake Trucking Slingshots were presented trophies. Joe Chisholm and Gage Motl tied for Senior Class title, and both announced they will be moving to the Out-Pace USRA B-Mod division for 2019.
The Out-Pace USRA B-Mods had Brandon Maitland fifth in points while Ryan Maitland was fourth and Dustin Kruse was third while the USRA Modifieds had Darwyn Karau finish fifth in points. Joe Horgdal was fourth in the standings with Jacob Bleess third and Josh Angst second.
Finally, in the King of The Creek final standings, Dustin Kruse was fifth, Neil Eckhart fourth, Kory Adams third and Jim Chisholm second.
Then it was time to honor the 2018 season champs. There were five first time titlists and three accomplished the feat without a single point night feature win. They were introduced one by one and they took to the stage and each champion was interviewed.
For the second time in the speedway's history there was a tie for a points title. Kath and Jim Chisholm tied for the Out-Pace USRA B-Mod crown. USRA guidelines had Kath as the champion with more feature wins, but Kath asked if they could share the accolades, which USRA approved. Kath had three wins and seven top-five runs while Chisholm had no wins but six top-five finishes.
Wasmund picked up his first track title in the USRA Modifieds. Wasmund rode two wins and eight top-five finishes for the title.
Justin Queensland then addressed the crowd to thank everyone for a great season. He also touched a little bit on each champion and also talked about a couple of things coming for 2019. Queensland then turned things over to event emcee Todd Narveson who closed out the night.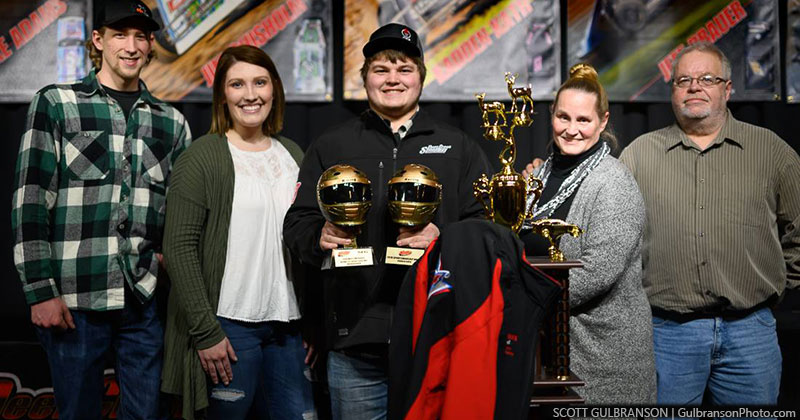 Kadden Kath captured the Out-Pace USRA B-Mod track championship and also garnered The Most Improved Driver Award and Sportmanship Award.
The 2019 season is scheduled to kick off with practice on Saturday, April 6, with the tentative opener set for Saturday, April 13.
For more information on Deer Creek Speedway please go to www.deercreekspeedway.com. Also like our Facebook page, follow us on Twitter @DeerCreekSpeed or view some previous season's action on our YouTube channel.