November 3, 2018 | by J.D. Green
A fun and exciting banquet Saturday night brought to a close the 2018 racing season at the I-35 Speedway in Winston, Mo.
What fun we had all year leading up to awarding the six-foot-tall champions trophies, and what a great banquet it was with fabulous food, fun, great racing stores, dancing, smiles and happiness all around.
A very happy social hour took place where racing stories from 2018 and plans for 2019 were discussed. Pit Stop Catering provided a scrumptious meal of smoked pork, chicken, mashed potatoes, pasta salad, macaroni and cheese and a roll, with desserts such as cookies and cupcakes readily available.
High Maintenance Photography provided a video recap of the season and Pearl Photography was taking pictures of the party happenings.
Master of Ceremonies Mark Merrell took to the stage and hosted the evening's awards. Track owners Mike and Kyle Johnson came to the stage to present the awards.
Congratulations to the 2018 Summit USRA Weekly Racing Series champions: Daniel Harris (Out-Pace USRA B-Mods), Jeff Dixon (Holley USRA Stock Cars) and Dennis Elliott (USRA Modifieds).
Chad Fuller and Houston Johnson were the Sportsman of the Year Award recipients for their respectful season-long battle for the championship and their recruiting others to compete in their class.
A special recognition award was presented to the Community Ambulance Service of Daviess County.
Bridgeman's Wrecker Service received the Hook of the Year Award.
The Gene Tuttle Award winner was Ed "Bubba" Kline for his work in the tech area and on the RACEceiver radio.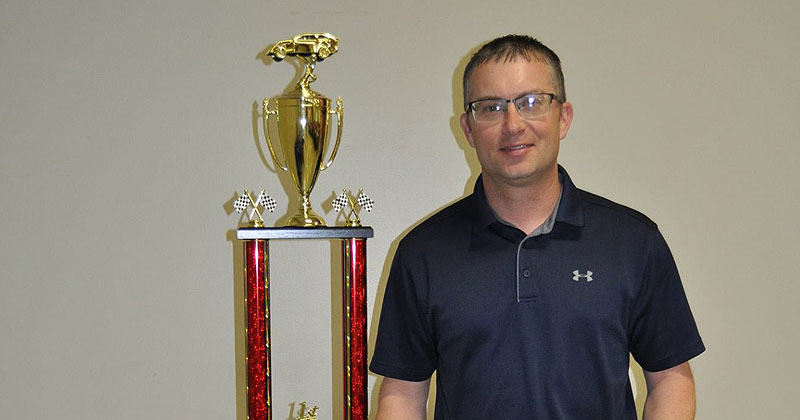 Dennis Elliott captured the 2018 USRA Modified track championship.
The awards ceremony culminated with the induction of Larry Kaster and Randy Ainsworth plus Eddie and Betty Schwope into the 2018 class of the I-35 Speedway Hall of Fame. There were two surprise inductees into the I-35 Speedway Hall of Fame. Eddie Schwope Jr. was also inducted along with his parents. Then, 11-year track owner Mike Johnson was inducted by the I-35 Speedway staff for all his contributions to the local racing community and his improvements to I-35 Speedway.
Champion Ron Hill closed the exciting fun banquet by making a special presentation to Paula Wilson-Murphy and family.
Now onto the 2019 racing season. Keep watching for I-35 Speedway press releases and social media for exciting news concerning next year's schedule, classes and other exciting information.