In addition to cash and prizes, each track champion received a brand new custom helmet for their efforts.
Lucas Oil Speedway held its annual post-season awards banquet Saturday night at The Lodge at Old Kinderhook, with the Summit USRA Weekly Racing Series champions headlining the honorees.
Darron Fuqua (USRA Modifieds) and J.C. Morton (Out-Pace B-Mods) took home the championship trophies and the entire top 10 in each division received points money and trophies.
Three special awards also were announced, including veteran engine builder Jim Ruble as recipient of the 2nd annual Forrest Lucas Lifetime Achievement Award for contributions to the sport on and off the track.
Ruble, of Springfield, has been building racing engines for a half century and among his clients this season was Kris Jackson, third in Out-Pace USRA B-Mod points at Lucas Oil Speedway and the Out-Pace USRA B-Mod national champion.
"I've been building motors since I was 13 years old," Ruble said after receiving a loud ovation at the banquet. "I plan on doing it until I can't any more."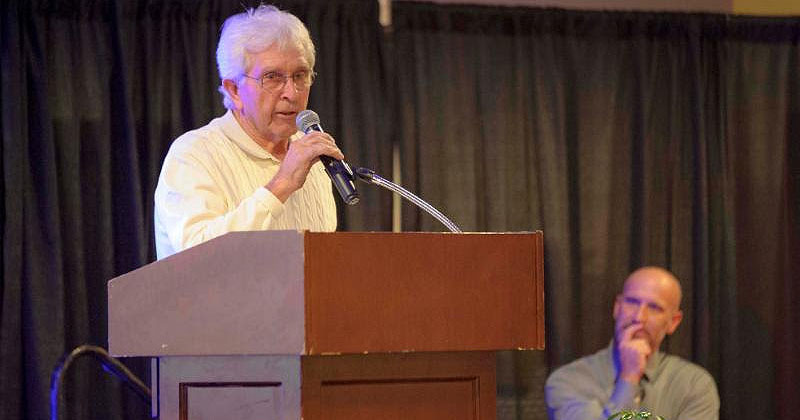 Jim Ruble received the Forrest Lucas Lifetime Achievement Award on Saturday, Nov. 3, at the Lucas Oil Speedway Awards Banquet. (Kenny Shaw photo)
The Out-Pace USRA B-Mod chase was tight as Morton of Springfield wound up 14 points in front of Taylor Moore.
Things were a bit more comfortable for Fuqua as the Mayetta, Kan., racer dethroned four-time reigning USRA Modified track champ Jeff Cutshaw by a 110-point margin.
Here are the top 10 drivers in each division honored at the banquet:
USRA Modifieds – 1. Darron Fuqua, 2. Jeff Cutshaw, 3. Lance Town, 4. Jason Pursley, 5. Jon Sheets, 6. Evan Hubert, 7. Mike Striegel, 8. Tracy Wolf, 9. Ronnie Woods, 10. Chase Domer.
Out-Pace USRA B-Mods – 1. J.C. Morton, 2. Taylor Moore, 3. Kris Jackson, 4. Robert Heydenreich, 5. Mitchell Franklin, 6. Mike Striegel, 7. Ricky Watkins, 8. Austin Joplin, 9. Robbe Ewing, 10. Quentin Taylor.
Lucas Oil Speedway is located at Highways 83 and 54 in Wheatland, Missouri. A campground with shower and bathroom facilities is also available. With its entrance located just outside the pit gate this sprawling scenic camping facility will continue to enhance the racing experience at the Diamond of Dirt Tracks.
Click www.LucasOilSpeedway.com for more information and detailed directions to the speedway or call the Track Hotline at (417) 282-5984. In addition, fans can get social with Lucas Oil Speedway by following @LucasSpeedway on Twitter, clicking "Like" at www.facebook.com/LucasOilSpeedway and on www.youtube.com/LucasOilSpeedway.