Jody Tillman made a surge on leader Ryan Gilmore on lap 17 and then pulled off a front-bumper win Saturday night at the Springfield Raceway.
Jerry Lankton earned the pole but Tillman shot to the lead early over Lankton, Jim Body and Gilmore. A caution from James Thompson bunched the pack-up as Tillman still set the pace.
Gilmore started using the high lane and after a five-lap side-by-side battle, took control and started to pull away.
On lap 17, Tillman, the hard charger from Branson West, found a different lane and started reeling in Gilmore. Never letting up on the throttle, Tillman was quick in the middle lane and made a banzai move on the last lap to nip Gilmore at the stripe with Lankton holding back Body for third with Travis Peery completing the top five.
The Out-Pace USRA B-Mods were set for a $700-to-win feature and defending Summit USRA Weekly Racing Series national champion Gilmore found his groove after a rough start to 2018.
Gilmore was the top points driver in qualifying and redrew the pole over a star-studden field. Gilmore shot to the top side early and was leaving the field to battle for second, which included current national points leader Kris Jackson, J.C. Morton, Kaden Cornell and Rex Merritt among many others.
Only one caution slowed the 20-lap feature, but the show stealers were Sam Petty who climbed from ninth to nip Jackson at the line for the runner-up spot and Jackie Dalton, who climbed from 20th all the way to 10th.
Behind the high-flying Gilmore and the fast-moving Petty was Jackson, Aaron Scroggins and Morton completing the top five.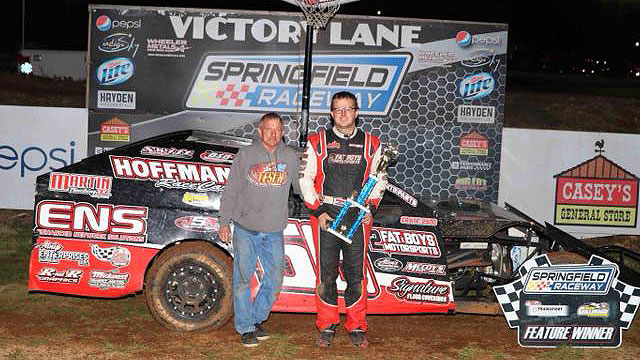 Springfield Raceway will be back in action next Saturday, April 21, with USRA Modifieds and Out-Pace, USRA B-Mods plus Midwest Modz, Legends and Pure Stocks along with the WAR Non-Winged Sprint Cars.
OFFICIAL RESULTS
United States Racing Association
Summit USRA Weekly Racing Series
Springfield Raceway, Springfield, Mo.
Saturday, April 14, 2018
USRA MODIFIEDS
1. (2) 85 Jody Tillman
2. (4) 3366 Ryan Gillmore
3. (1) 35 Jerry Lankton
4. (3) 71 Jim Body
5. (8) 6P Travis Peery
6. (7) 73 Mickey Burrell
7. (11) 33 Danny Martin
8. (5) 5d Daniel Andrus
9. (10) 11 Phil Harris
10. (6) 8 Nathan Gold
11. (12) 11t James Thompson
12. (9) 160 Michael Maggard
USRA OUT-PACE B-MODS
1. (1) 66 Ryan Gillmore
2. (9) 9 Sam Petty
3. (5) 65 Kris Jackson
4. (2) 1/4 Aaron Scroggins
5. (4) 18 J.C. Morton
6. (3) 50 Kaden Cornell
7. (6) 25 Rex Merritt
8. (10) 00t Taylor Moore
9. (12) 71iii Jim Body III
10. (20) 21 Jackie Dalton
11. (7) 2g Jack Asbell
12. (19) 112 Justin Comer
13. (8) 83n J.C. Newell
14. (13) 14g Kameron Grindstaff
15. (18) 101x Matt Rose
16. (11) 8 Dillion McCowan
17. (15) 87 Justin Pike
18. (14) 18j Mikey Joplin
19. (16) 5w Derek Watson
20. (18) 39 Rusty Rickard
DNS - 68 Ricky Watkins
DNS - 17 Phillip Caddy
DNS - 30 Rex Harris
DNS - 3d Michael Cawvey
DNS - 414 Ryan Thomas
DNS - 32 Kelly Hicks
DNS - 8k Tyler Knudtson
DNS - 82 Jace Parmley
DNS - 07 Daniel Harris
DNS - X Kyle Shrum
DNS - 99x James Scroggins
DNS - 55b Bill Schahuber