Sanders, Clancy, Eaton winners at U.S. 36 Raceway
Zach Sanders won the USRA Modified feature.
Kicking off Lake Road Warehouse Night at the U.S. 36 Raceway Friday night, the Out-Pace USRA B-Mods saw Tim Eaton pick up his third feature win in a row. Eaton used a heat race win to launch him out front and on to victory with Shadren Turner a close second. Third saw Doug Keller hold off a charging Steve Clancy at the line for fourth. The other heat race winner, Chris Wright, was among the front-runners the entire race, fading to place fifth late in the feature.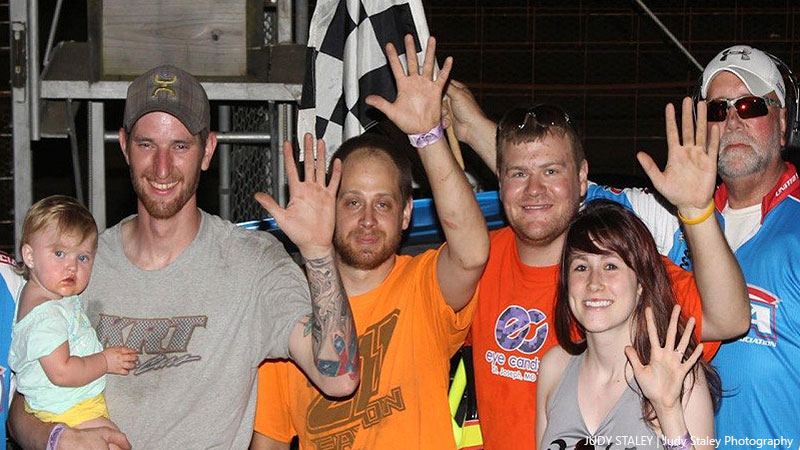 Tim Eaton won the Out-Pace USRA B-Mod feature.
Holley USRA Stock Cars saw a talented field of drivers doing battle on the fast, high-banked 3/8-mile oval. Heat race winner Chad Clancy charged to the front early and never looked back or relinquished the lead in claiming the feature win. Clancy was challenged by Brad Whitney, who placed second ahed of third-place finisher Alvie Christofferson. Fourth saw Mich Ross beat fifth-place finisher Thomas Roberts by a car length at the checkers. The other heat race winner, Josh Steele, suffered a flat tire in the main event.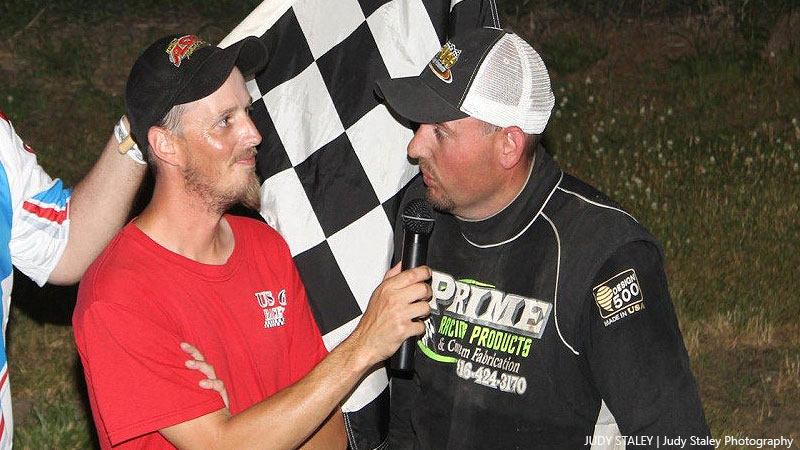 Chad Clancy won the Holley USRA Stock Car feature.
USRA Modifieds saw Zach Sanders win both his heat race and the feature on this night of competition. Sanders pulled out to a sizable lead and never looked back en route to celebrating in victory lane. Shayne Bailey had issues in his heat race and started tailback on the field but worked through the pack and placed second in the feature. Third saw Mark Dotson with Austin Johnson working his way to a solid fourth-place showing. Fifth saw Michael Dotson have a solid race to the line. The other heat race winner, Kyle Westerhold, was up front until the engine let go, ending his night of competition.
U.S. 36 Raceway would like to thank all drivers and fans for another good night of competition and family fun. See everyone next week for Collision Repair Specialist Night.
= = = = = = = = = = = = = = =
OFFICIAL RESULTS
United States Racing Association
Summit USRA Weekly Racing Series
U.S. 36 Raceway, Osborn, Mo.
Friday, June 16, 2017
OUT-PACE USRA B-MODS
Feature:
1. 211 Tim Eaton
2. 17T Shadren Turner
3. 7 Doug Keller
4. 12C Steve Clancy
5. 66X Chris Wright
6. 81 Dakota Kessler
7. 47 Tyson Lanfermann
8. 72 Anthony Hill
9. 99M Skylar Nolker
10. 19X Josh Munsen
11. 96 Cody Brill
12. 20X Steve Starmer
13. 15B Wes Bestgen
14. 07 Daniel Harris
HOLLEY USRA STOCK CARS
Feature:
1. 20XX Chad Clancy
2. X9 Brad Whitney
3. 22X Alvie Christofferson
4. 34X Mich Ross
5. 65X Thomas Roberts
6. 83A Aaron Sauter
7. 94J Josh Steele
8. 75 Tracy Summers
9. G23 Greg Gilbert
10. 6X Greg Kuehn
11. 55T Calvin Teal
USRA MODIFIEDS
Feature:
1. 69 Zach Sanders
2. 7 Shayne Bailey
3. 85D Mark Dotson
4. 98 Austin Johnson
5. 55D Michael Dotson
6. 2H John Hanson
7. 21C Chad Clancy
8. 96JR Anthony Logston
9. 17K Kyle Westerhold
10. 97 Houston Johnson