Ty Griffith won the Out-Pace USRA B-Mod feature.
This second round of Friday Night Under the Lights took place July 12 at the Hamilton County Speedway driven by Spangler Automotive with Armed Forces Night presented by Casey's General Store and a B-Mod special to boot.
Headlining the night's Summit USRA Weekly Racing Series winners was Webster City's Ty Griffith who raced from the eighth starting spot to claim the $2,400 top prize in the Out-Pace USRA B-Mod main event.
Polesitter Colby Fett of Algona was able to hang on for runner-up honors behind the defending track champ while Jared Boumeester of Waseca, Minn., charged to third from 17th on the grid.
Ben Moudry of Hastings, Minn., and Brayton Carter of Oskaloosa rounded out the top five.
Another track champion from last year, J.D. Auringer of Waterloo, returned to Integrity Trucking Victory Lane in the USRA Modified feature race.
Arizona's Tim Ward made a strong showing to finish second after starting 11th, with Brennen Chipp of Dunkerton in third, Mark Elliot of Webster City finishing fourth and Scott Olson of Blairsburg finishing fifth at the stripe.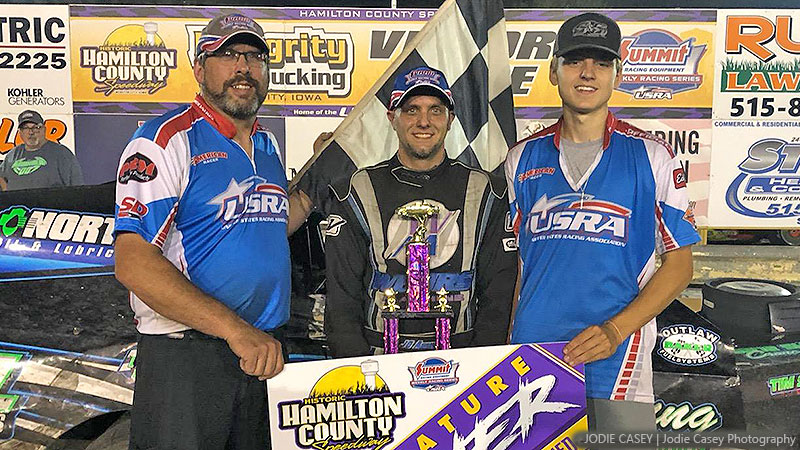 J.D. Auringer won the USRA Modified feature.
In American Racer USRA Stock Car action, Devin Smith of Lake City started on the outside of the fourth row but steered his way to the front to garner the win over fifth-starting Todd Staley of Webster City.
Dylan Suhr of Waterloo was third and fourth and fifth went to Webster City racers Reid Keller and Andy Jones, respectively.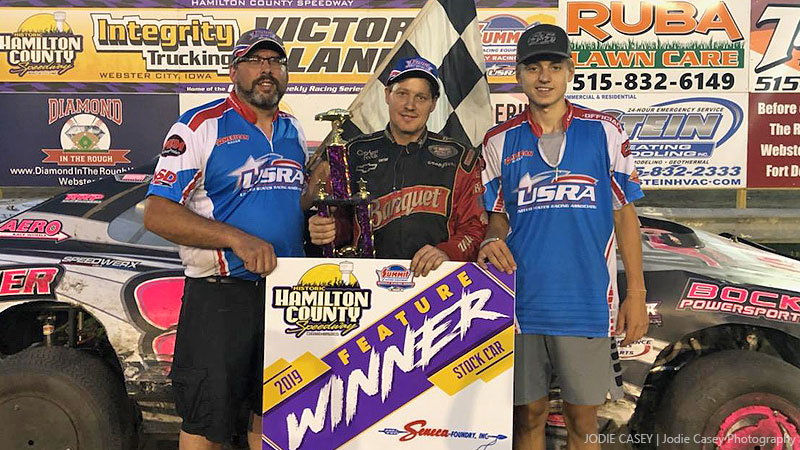 Devin Smith won the American Racer USRA Stock Car feature.
Myles Michehl of Fort Dodge grabbed the checkers in the feature race for the Cook Racking Supplies USRA Hobby Stocks with a pair of Webster City drivers—Roger Haupt and Daniel Ayers—filling out the rest of the podium.
Tanner Green of Hampton improved from seventh to fourth in the contest, and Jayden Glenn of Stratford stormed from 13th to fifth.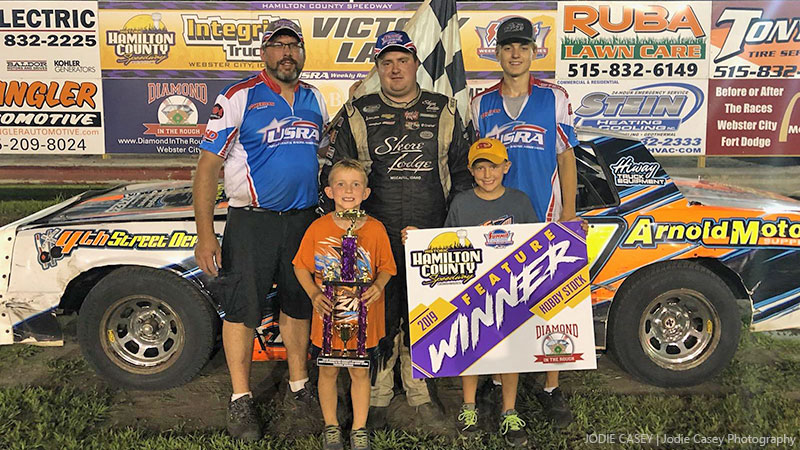 Myles Michehl won the Cook Racing Supplies USRA Hobby Stock feature.
Oliver Monson of Clear Lake parlayed the pole position into a victory in the USRA Tuner nightcap.
Matt Oberhelman of Fort Dodge was second and Mychal Gorham of Boone came home in third.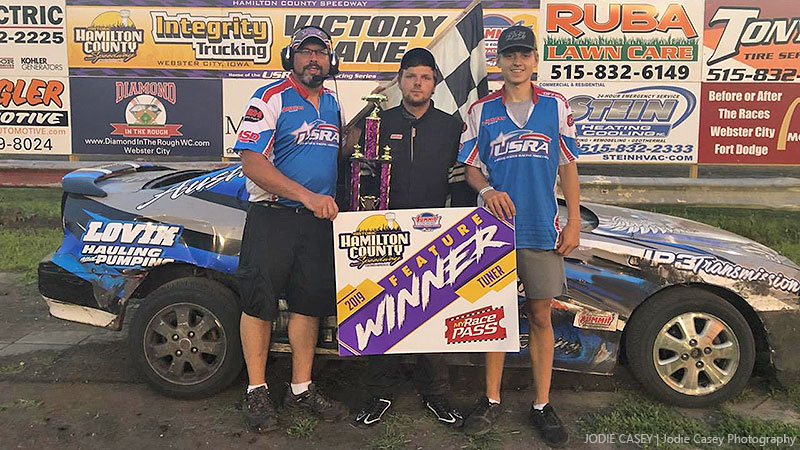 Oliver Monson won the USRA Tuner feature.
Halfway Home: The doubleheader weekend continues Saturday and everybody gets in for free on Driver Appreciation Night with a free race ticket from a participating Hamilton County Speedway racer. Contact your favorite driver for your free ticket. The night will see the Summit USRA Weekly Racing Series in action featuring USRA Modifieds, American Racer USRA Stock Cars, Out-Pace USRA B-Mods, Cook Racking Supplies USRA Hobby Stocks and USRA Tuners. Super Late Models presented by Malvern Bank will also add to the on-track excitement.
Without a free driver ticket, adult grandstand admission is $12, juniors (12-16) are $8 and kids (11 & under) are free. You can save $8 with a Family Pack which is good for two adults and two juniors for just $32. Pit passes are $30 for adults, $20 for youth (6-10) or free for kids ages 5 and under.
The pits open at 4 p.m. and spectator gates open at 5. The drivers meeting is slated for 6:45 with hot laps at 7 and racing at 7:30.
The Hamilton County Speedway driven by Spangler Automotive is located off US 20 at exit 140, then 1.2 miles north, then 0.5 mile east on Bank St., then 0.4 mile south on Bluff St. to the Hamilton County Fairgrounds in Webster City, Iowa. The physical address is 1200 Bluff St, Webster City, IA 50595.
For more information, call <a href="tel:+15158326000">(515) 832-6000 or check out HamiltonCoSpeedway.com. You can also get social on Facebook at facebook.com/RaceWebsterCity or Twitter at twitter.com/HamiltonCoSpeed (@HamiltonCoSpeed).
Opening in July 1910, the Hamilton County Speedway is the oldest speedway in the state of Iowa. In 1938, work began on the current location at the Hamilton County Fairgrounds. The semi-banked half-mile dirt track was completed in the spring of 1939, and the first races were held on the track in September of that year.
= = = = = = = = = = = = = = =
OFFICIAL RESULTS
United States Racing Association
Summit USRA Weekly Racing Series
Hamilton County Speedway, Webster City, Iowa
Friday, July 12, 2019
Showing finishing position, starting position in parentheses, car number, driver and hometown.
USRA MODIFIEDS
Heat #1:
1. (2) 8X Scott Olson, Blairsburg, Iowa
2. (3) 12 Mark Elliot, Webster City, Iowa
3. (5) 3W Garett Wilson, Carlisle, Iowa
4. (6) 164 Brandon Leeman, Roland, Iowa
5. (7) 2 Jerid Ratzke, Williams, Iowa
6. (1) 45H Jason Hickingbottom, Ogden, Iowa
7. (4) 21N Ben Nading, Ankeny, Iowa
Heat #2:
1. (3) 00J J.D. Auringer, Waterloo, Iowa
2. (1) 15X Ryan Griffith, Webster City, Iowa
3. (6) 4TW Tim Ward, Chandler, Ariz.
4. (2) 91 Shawn Ryan, Waterloo, Iowa
5. (4) 14E Chase Ellingson, Williams, Iowa
6. (5) 75 Christopher Elliott, Webster City, Iowa
Heat #3:
1. (2) 41 Nate Hughes, Humboldt, Iowa
2. (5) 21 Brennen Chipp, Dunkerton, Iowa
3. (1) 209 Ron Ver Beek, Oskaloosa, Iowa
4. (6) 48J Jacob Murray, Hartford, Iowa
5. (4) 5D Devon Havlik, Iowa Falls, Iowa
6. (3) 78 Bryce Summers, Eagle Grove, Iowa
Feature:
1. (5) 00J J.D. Auringer, Waterloo, Iowa
2. (11) 4TW Tim Ward, Chandler, Ariz.
3. (3) 21 Brennen Chipp, Dunkerton, Iowa
4. (6) 12 Mark Elliot, Webster City, Iowa
5. (10) 8X Scott Olson, Blairsburg, Iowa
6. (2) 3W Garett Wilson, Carlisle, Iowa
7. (7) 209 Ron Ver Beek, Oskaloosa, Iowa
8. (9) 15X Ryan Griffith, Webster City, Iowa
9. (12) 41 Nate Hughes, Humboldt, Iowa
10. (1) 91 Shawn Ryan, Waterloo, Iowa
11. (17) 75 Christopher Elliott, Webster City, Iowa
12. (13) 2 Jerid Ratzke, Williams, Iowa
13. (19) 21N Ben Nading, Ankeny, Iowa
14. (15) 5D Devon Havlik, Iowa Falls, Iowa
15. (16) 45H Jason Hickingbottom, Ogden, Iowa
16. (8) 164 Brandon Leeman, Roland, Iowa
17. (14) 14E Chase Ellingson, Williams, Iowa
18. (18) 78 Bryce Summers, Eagle Grove, Iowa
19. (4) 48J Jacob Murray, Hartford, Iowa
AMERICAN RACER USRA STOCK CARS
Heat #1:
1. (2) 81 Devin Smith, Lake City, Iowa
2. (4) 19 Reid Keller, Webster City, Iowa
3. (1) 27 Gary Bass, Des Moines, Iowa
4. (5) 4ORD Bob Sutherland, Blairsburg, Iowa
5. (3) 42 Coy Van Hauen, Nora Springs, Iowa
DNS – 18 Anthony Goldsberry, Runnells, Iowa
Heat #2:
1. (4) 14 Todd Staley, Webster City, Iowa
2. (6) 87 Dylan Suhr, Waterloo, Iowa
3. (3) 7 Andy Jones, Webster City, Iowa
4. (5) 47 Parker Slagle, Eagle Grove, Iowa
5. (1) 05 Craig Berhow, Belmond, Iowa
6. (2) 15 Allen Govig, Madrid, Iowa
Feature:
1. (8) 81 Devin Smith, Lake City, Iowa
2. (5) 14 Todd Staley, Webster City, Iowa
3. (1) 87 Dylan Suhr, Waterloo, Iowa
4. (6) 19 Reid Keller, Webster City, Iowa
5. (2) 7 Andy Jones, Webster City, Iowa
6. (7) 47 Parker Slagle, Eagle Grove, Iowa
7. (10) 05 Craig Berhow, Belmond, Iowa
8. (4) 4ORD Bob Sutherland, Blairsburg, Iowa
9. (3) 27 Gary Bass, Des Moines, Iowa
10. (9) 42 Coy Van Hauen, Nora Springs, Iowa
11. (11) 18 Anthony Goldsberry, Runnells, Iowa
12. (12) 15 Allen Govig, Madrid, Iowa
OUT-PACE USRA B-MODS
Heat #1:
1. (3) 16 Dan Hovden, Decorah, Iowa
2. (2) 01 Brayton Carter, Oskaloosa, Iowa
3. (6) 85 Ben Moudry, Hastings, Minn.
4. (4) 25C Cody Thompson, Sioux City, Iowa
5. (5) 81 Jared Boumeester, Waseca, Minn.
6. (7) 12 Doug Smith, Lake City, Iowa
7. (1) 30M Cayden Carter, Oskaloosa, Iowa
DNS – 88 Bryer McCoy, Webster City, Iowa
Heat #2:
1. (4) 99 Rocky Caudle, Ellsworth, Iowa
2. (1) 00 Colby Fett, Algona, Iowa
3. (6) 11 Jake Masters, Graettinger, Iowa
4. (2) 88N Nate Albrant, Britt, Iowa
5. (5) 4 Jason Bass, Fort Dodge, Iowa
6. (7) 24C Jim Chisholm, Osage, Iowa
7. (8) 49 Nate Whitehurst, Mason City, Iowa
8. (3) 99X Martin Bennett, Ankeny, Iowa
Heat #3:
1. (5) 66 Levi Chipp, Latimer, Iowa
2. (1) 7+ Jared Timmerman, Norwalk, Iowa
3. (4) 85T Brandon Toftee, Otho, Iowa
4. (3) 5T Tyler Inman, Altoona, Iowa
5. (8) 69JR Johnathon Logue, Logansport, Iowa
6. (7) 20J Jeremy Grantham, Allison, Iowa
7. (2) 32S Blair Simmons, Des Moines, Iowa
8. (6) 56X Kyle Webb, Des Moines, Iowa
Heat #4:
1. (3) 56 Ty Griffith, Webster City, Iowa
2. (6) 1 Doug McCollough, Webster City, Iowa
3. (5) 7V Carter VanDenBerg, Oskaloosa, Iowa
4. (2) 22X Troy Oliver, Des Moines, Iowa
5. (4) 40 George Gilliland, Lehigh, Iowa
6. (1) 9J Jeremiah Reed, Otho, Iowa
DNS – 98R Kendall Zuetlau, Fort Dodge, Iowa
"B" Feature:
1. (2) 24C Jim Chisholm, Osage, Iowa
2. (1) 12 Doug Smith, Lake City, Iowa
3. (5) 49 Nate Whitehurst, Mason City, Iowa
4. (8) 99X Martin Bennett, Ankeny, Iowa
5. (3) 20J Jeremy Grantham, Allison, Iowa
6. (4) 9J Jeremiah Reed, Otho, Iowa
7. (6) 32S Blair Simmons, Des Moines, Iowa
8. (7) 88 Bryer McCoy, Webster City, Iowa
DNS – 30M Cayden Carter, Oskaloosa, Iowa
DNS – 56X Kyle Webb, Des Moines, Iowa
DNS – 98R Kendall Zuetlau, Fort Dodge, Iowa
"A" Feature:
1. (8) 56 Ty Griffith, Webster City, Iowa
2. (1) 00 Colby Fett, Algona, Iowa
3. (17) 81 Jared Boumeester, Waseca, Minn.
4. (10) 85 Ben Moudry, Hastings, Minn.
5. (4) 01 Brayton Carter, Oskaloosa, Iowa
6. (3) 7V Carter VanDenBerg, Oskaloosa, Iowa
7. (22) 12 Doug Smith, Lake City, Iowa
8. (5) 99 Rocky Caudle, Ellsworth, Iowa
9. (21) 24C Jim Chisholm, Osage, Iowa
10. (13) 25C Cody Thompson, Sioux City, Iowa
11. (7) 1 Doug McCollough, Webster City, Iowa
12. (11) 7+ Jared Timmerman, Norwalk, Iowa
13. (14) 88N Nate Albrant, Britt, Iowa
14. (12) 85T Brandon Toftee, Otho, Iowa
15. (16) 22X Troy Oliver, Des Moines, Iowa
16. (19) 69JR Johnathon Logue, Logansport, Iowa
17. (24) 99X Martin Bennett, Ankeny, Iowa
18. (20) 40 George Gilliland, Lehigh, Iowa
19. (15) 5T Tyler Inman, Altoona, Iowa
20. (6) 66 Levi Chipp, Latimer, Iowa
21. (9) 16 Dan Hovden, Decorah, Iowa
22. (23) 49 Nate Whitehurst, Mason City, Iowa
23. (18) 4 Jason Bass, Fort Dodge, Iowa
24. (2) 11 Jake Masters, Graettinger, Iowa
COOK RACING SUPPLIES USRA HOBBY STOCKS
Heat #1:
1. (5) 4D Daniel Ayers, Webster City, Iowa
2. (4) 136 Tanner Green, Hampton, Iowa
3. (8) 52 Weston Koop, Rockwell, Iowa
4. (7) 10 John Ades, Rippey, Iowa
5. (2) 88N Nate Parkhill, Webster City, Iowa
6. (3) 34 Lincoln Miller, Eagle Grove, Iowa
7. (6) 11J Jayden Glenn, Stratford, Iowa
8. (1) 31 Jeremy Crimmins, Fort Dodge, Iowa
Heat #2:
1. (1) 7B Eric Stanton, Carlisle, Iowa
2. (4) 24R Roger Haupt, Webster City, Iowa
3. (5) 88 Daniel Smith, Lake City, Iowa
4. (2) 21 Myles Michehl, Fort Dodge, Iowa
5. (3) 10X Danny Sassman Jr., Fort Dodge, Iowa
6. (6) 11K William Klosterman, Ackley, Iowa
7. (7) 56 Jake Blau, Latimer, Iowa
Feature:
1. (2) 21 Myles Michehl, Fort Dodge, Iowa
2. (4) 24R Roger Haupt, Webster City, Iowa
3. (1) 4D Daniel Ayers, Webster City, Iowa
4. (7) 136 Tanner Green, Hampton, Iowa
5. (13) 11J Jayden Glenn, Stratford, Iowa
6. (15) 31 Jeremy Crimmins, Fort Dodge, Iowa
7. (14) 56 Jake Blau, Latimer, Iowa
8. (11) 34 Lincoln Miller, Eagle Grove, Iowa
9. (9) 52 Weston Koop, Rockwell, Iowa
10. (8) 10 John Ades, Rippey, Iowa
11. (10) 10X Danny Sassman Jr., Fort Dodge, Iowa
12. (3) 7B Eric Stanton, Carlisle, Iowa
13. (5) 88N Nate Parkhill, Webster City, Iowa
14. (12) 11K William Klosterman, Ackley, Iowa
15. (6) 88 Daniel Smith, Lake City, Iowa
USRA TUNERS
Heat:
1. (1) 5 Oliver Monson, Clear Lake, Iowa
2. (2) 41 Matt Oberhelman, Fort Dodge, Iowa
3. (3) 3 Logan Staley, Webster City, Iowa
4. (5) G12 Mychal Gorham, Boone, Iowa
5. (4) 45 John Dahlsten, Pomeroy, Iowa
Feature:
1. (1) 5 Oliver Monson, Clear Lake, Iowa
2. (4) 41 Matt Oberhelman, Fort Dodge, Iowa
3. (3) G12 Mychal Gorham, Boone, Iowa
4. (2) 3 Logan Staley, Webster City, Iowa
5. (5) 45 John Dahlsten, Pomeroy, Iowa