July 11, 2018 | by J.D. Green
Two USRA Modified features, the start of the Rick Beebe Heating & Air Smokin' Hot Summer Series—a two-track, ten-10 race special event—plus the Summit USRA Weekly Racing Series and Late Models is all at I-35 Speedway this Saturday night, July 14.
The first USRA Modified feature is a make-up from the June 30 weather interruption. The Rick Beebe Heating & Air Smokin' Hot Summer Series presented by Prime Racing Products is for USRA Modifieds, Holley USRA Stock Cars and Out-Pace USRA B-Mods and includes bonus money to be paid from several sponsorships for drivers competing in this special series at the Lakeside Speedway on Fridays and I-35 Speedway on Saturdays over the next five weeks.
One very special quality about racing is that we consider ourselves family. This Saturday we again have a chance to step up and assist one of our own.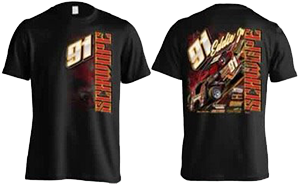 The Schwope family will be selling Eddie Schwope T-shirts as he is making trips to the Mayo Clinic in Minnesota. This is our opportunity to assist a fellow racer and get an awesome race shirt in the process. Please come prepared to assist this family in the expenses they are facing, get an awesome shirt in the process, and the drivers will be passing the helmet at intermission. Plan to show your love and include this family in your prayers and thoughts.
Gates will open at 4:30 p.m. with practice at 6:30 and racing at 7 p.m. Ticket prices are $15 for general admission, $12 for seniors (62+) and military personnel. All youth ages 18 and under will continue to be free. Load up the family and the kids and come enjoy a night of racing. Date night at the I-35 Speedway. How much better could it be?
The I-35 Speedway is located at Exit 64 off Interstate 35 in Winston, Mo. Grandstands are in the shade. Concessions available throughout the facility with delicious cold snow cones, sweet funnel cakes, root beer floats, cold beverages of your choice, large tenderloins, hot fries, walking tacos, hot dogs and hamburgers... all available for your dining pleasure. A fantastic place for dinner is the Trackside Bar & Grill overlooking turn 1. Always clean restrooms that would be pleasing to Mom, always free parking. Where else would you be on Saturday night other than I-35 Speedway?