J.C. Morton won the Out-Pace USRA B-Mod main event on Saturday, July 7, 2018, at the Springfield Raceway in Springfield, Mo.
Points leader Jody Tillman held back a charge from Ryan Gilmore in the closing two laps of the feature to record his fourth USRA Modified win Saturday night at the Springfield Raceway.
Tillman earned the pole with Gilmore on his outside. On the start, Tillman got the jump on Gilmore to take the early control as the duo pulled away from the pack as Jim Body, Jerry Lankton and last week's winner, Chase Domer, were swapping the third place spot.
Up front, Tillman opened a full straight-away advantage in the 20-lap caution-free event. On lap 15, Gilmore began to reel-in Tillman as the leader was beginning to catch lapped traffic. With two laps left, Gilmore cut it down to five car-lengths and was coming quick while Tillman was moving on the track to search for more grip.
As the white flag flew, Gilmore was in line and right behind Tillman as they went bumper to bumper in turn 3 with traffic in front of the leaders but Tillman held back Gilmore for the win while Domer, Body and Lankton completed the top five.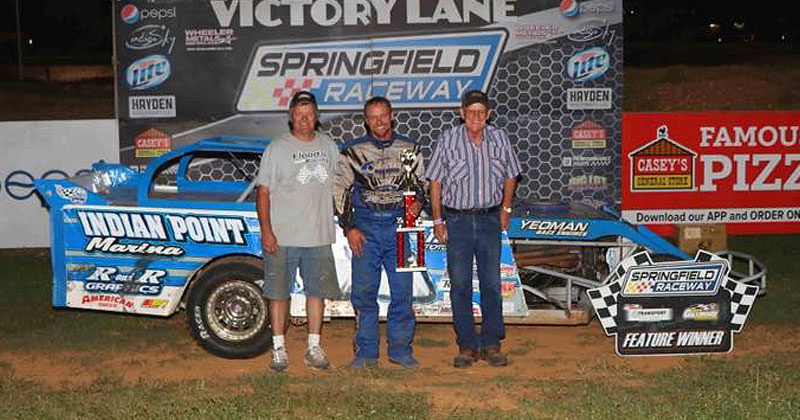 Jody Tillman won the USRA Modified main event on Saturday, July 7, 2018, at the Springfield Raceway in Springfield, Mo.
In Out-Pace USRA B-Mod action, J.C. Morton was able to hold back several contenders, including Gilmore and points leader Jackie Dalton, in a feature that provided three-wide action all night long,
Rusty Rickard and Morton earned the front row spots over the 32 entries checked into the pits. Morton jumped to the opening lead with Rickard, Gilmore, Taylor Moore and a thundering pack behind. The first caution waved for Aaron Speck slowing the pace as his night ended. On the restart, Gilmore shot to the top lane right behind Morton as drivers were moving forward.
On lap 5, Rickard jumped the cushion in turn 3 ended his night as the pack got even tighter. On the restart, Gilmore stayed glued to Morton as Justin Comer and Rex Merritt were moving forward. While Morton, a former Springfield Raceway track champion and USRA national champion, stayed top side, Gilmore moved downstairs as they ran door to door until the midway point when Gilmore clipped a tire down low in turn 4 and spun, ending his night.
This placed Dalton on Morton's bumper for the restart and he applied pressure. A late-race caution set up what looked to be some more three-wide racing as Dalton shot low and Comer went to the middle of the track with Aaron Scroggins and Merritt battling for the fourth spot and gaining on the lead trio.
Morton was able to hold back the repeated attempts to gather the win with Dalton, Comer, Scroggins and Merritt rounding out the top five.
Action continues next Saturday, July 14, with USRA Modifieds and Out-Pace USRA B-Mods plus Midwest Modz, Legends and Pure Stocks with racing at 7:45. For more information visit the Facebook page or website at www.SpringfieldRaceway.com.
= = = = = = = = = = = = = = =
OFFICIAL RESULTS
United States Racing Association
Summit USRA Weekly Racing Series
Springfield Raceway, Springfield, Mo.
Saturday, July 7, 2018
Feature race results showing finishing position, starting position in parentheses, car number and driver.
USRA MODIFIEDS
1. (1) 85 Jody Tillman
2. (2) 3366 Ryan Gilmore
3.( 5) 227 Chase Domer
4. (4) 71 Jim Body
5. (3) 35 Jerry Lankton
6. (8) 11T James Thompson
7. (9) 155 Terry Kirk
8. (11) 33 Danny Martin
9. (7) 84 Craig Yeoman
10. (6) 8 Nathan Gold
11. (10) 33D Danny DeMasters II
12. (13) 120 Bob Kerbs
13. (12) 2+12 William Graham Jr.
OUT-PACE USRA B-MODS
1. (2) 18 J.C. Morton
2. (6) 21 Jackie Dalton
3. (7) 112 Justin Comer
4. (12) 1/4 Aaron Scroggins
5. (11) 25m Rex Merritt
6. (13) 71III Jimmy Body III
7. (3) 00T Taylor Moore
8. (5) 8 Dillion McCowan
9. (18) 55B Bill Schahuber
10. (15) D7 Shawn Duncan
11. (16) 10 Russell Niehoff
12. (14) 30 Rex Harris
13. (19) 7x Ryan Lewis
14. (17) 9P Sam Petty
15. (10) 22 Greg Woodcock
16. (9) 5W Derek Watson
17. (4) 66 Ryan Gilmore
18. (8) 9D Dwight Niehoff
19. (2) 39 Rusty Rickard
20. (20) 3A Aaron Speck
DNS – 32 Kelly Hicks
DNS – 17 Phillip Caddy
DNS – 07 Bobby Maggard Jr.
DNS – 21X Cody Rider
DNS – 414 Ryan Thomas
DNS – 1/4 Ron Scroggins
DNS – 10P Dayton Pursley
DNS – 01H Kyle Hatfield
DNS – 17R Rod Inman
DNS – 59T Mike Treadway
DNS – 68 Ricky Watkins
DNS – 12JR Olen Stephens